Learning & Skills news
Food for Thought Project
Our Study Programme students lent a helping hand with the Food for Thought Project in December 2019. Thanks guys, great work! 
Student-staff partnerships – technology for learning
Funded by the Education and Training Foundation (ETF) and managed by the Strategic Development Network (SDN), projects were commissioned across the country; to explore how the digital capability of students can be harnessed to support staff in their use of technology for teaching, learning and assessment.
Darlington Borough Council's Learning & Skills team joined the North East project group led by Bishop Auckland College. Students worked with their tutors to choose a form of technology which they felt could benefit and encourage the use of digital skills within the learning environment. Funding from the SDN was given to reward the students for their participation.
Simon Moore who led the group reported that the project had been a huge success and learners had embraced the use of technology. One of the groups did however comment on how the online environment is having a detrimental effect to our high street, and so for that reason it was agreed that after enhancing their digital capabilities the learners would be rewarded with high street vouchers in a move to highlight the importance of our town centres.
National Apprenticeship Week 2019
National Apprenticeship Week is an annual occurrence with the aim of celebrating apprentices' achievements and their positive effect on local businesses.
This year Apprenticeship Week took place from 4th March to 8th March with the theme of "Blazing a Trail". The theme aimed to showcase the new energy and passion that apprentices can bring to the workplace, promoting apprenticeships as a positive route for anyone looking to gain new skills or change their career.
Darlington Borough Council Learning & Skills has celebrated Apprenticeship Week with a variety of different activities. They have spoken to a range of local employers and apprentices in regard to the positive impacts the apprenticeship has had on them and showcased the impacts on their website and social media.
During apprenticeship week, current apprentices have taken part in a competitive step challenge to encourage health and well-being. They have also arranged a drop-in event at the Town Hall where members of staff could gain more information about apprenticeships and the positive effect they could have on their department, looking at success stories and the opportunity for up-skilling staff.
The biggest event of the week was the Tees Valley Apprenticeship Week challenge which involves teams of apprentices from all five Tees Valley local authorities competing in a range of mental and physical tasks. Middlesbrough Council Community Learning hosted the event at Middlesbrough Sports Village on Thursday 7th March.
During the day the apprentices had to communicate effectively in relay challenges with Functional Skills twists, undertake team building exercises and sprint challenges as well as other physical activities. Darlington Borough Council apprentices were the overall winners of the event and will assume responsibility of hosting next year's challenge.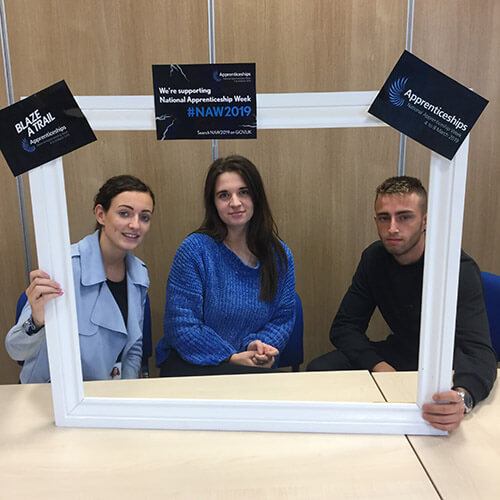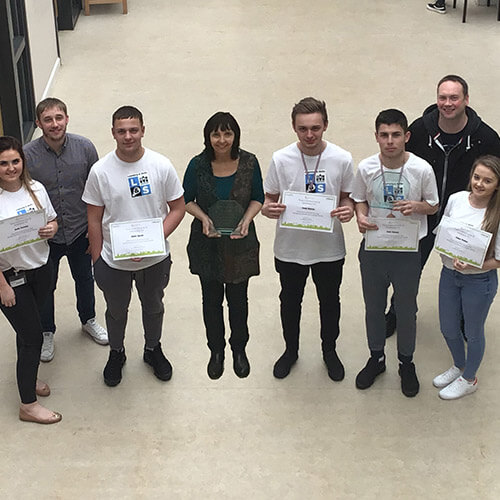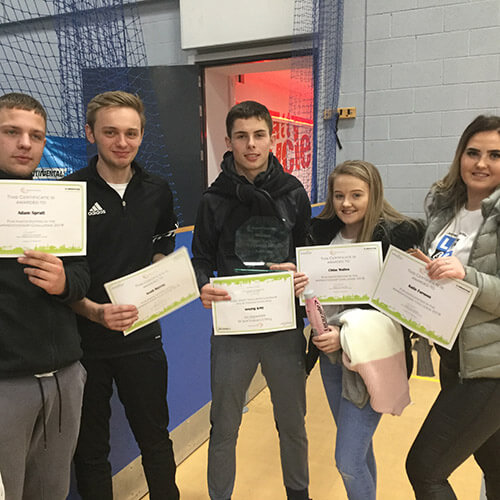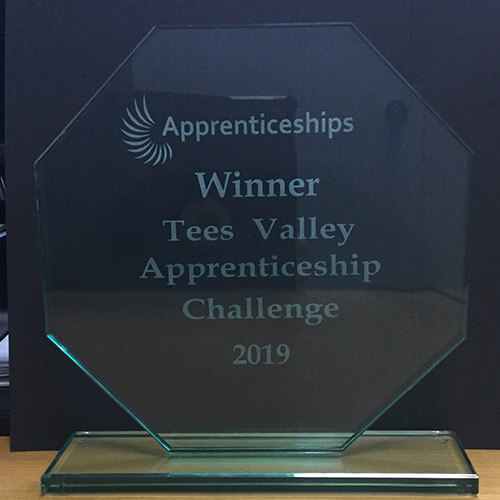 Book Fest 2019
A festival around World Book Day was based in and around Crown Street Library in Darlington during the week commencing 4th March 2019. BookFest brought families together offering them the opportunity to step widely out of their comfort zone and try something new together. Incorporating arts, literature and learning, BookFest provided an abundance of opportunity for families.
Throughout the week 23 events were held for the public and an additional 8 events as part of the Schools Programme. 740 participants (and their families) came to events including Author and Illustrator talks, Storytelling, Cupcake Decorating and Sewing Workshops, Lego Parties and a family friendly 60s Rock Gig. 
Learning & Skills offered a variety of sessions throughout the week for adults which were attended by parents, grandparents and child minders. Pat Davies, Learning & Skills tutor, who delivered a Story Box session (a story box is a miniature setting, a shoe box-sized stage with a background and objects within it relating to either a specific book, or to a common story scenario) said: "We discussed what a story box is and how they can be used with children for retelling stories and stimulating their imagination for telling their own stories. I demonstrated a box which could be used for several stories (such as the Gruffalo, 3 bears) to link in with the themes of the library's new benches, Julia Donaldson stories, fairy stories and Roald Dahl stories. I provided the group with boxes and a variety of resources to make their own story boxes based on their child's favourite book or a scene that the children could use their imagination and make up their own stories. The group was enthusiastic and used the resources to make some very imaginative story boxes."
Janice Ford delivered the Fun with Fabrics session and says, "The session involved using felt and re-cycled materials to produce an applique design suitable for children's clothing. We discussed the different techniques used for applique using hand sewing techniques. The room at the library was warm and welcoming with good lighting. The practical task was a success with all learners completing one applique sample. Some used the designs and patterns from the examples provided by the tutor and others proved to be quite creative by drawing and using their own design. Materials were provided and were more than adequate to complete the task. The session proved to be a success with everything going according to plan and with good support from library staff." 
Best Apprenticeships in the Tees Valley
Learning & Skills has the best success rate across all age groups for all levels and all types in the Tees Valley compared to all other local authorities and colleges. It is in the top 3% of highest achievement rates of all institutions in the country (22/735), in all areas for 16-18, 19-23 and all age apprenticeships. This is fantastic news and testament to hard work put in by the staff and learners involved.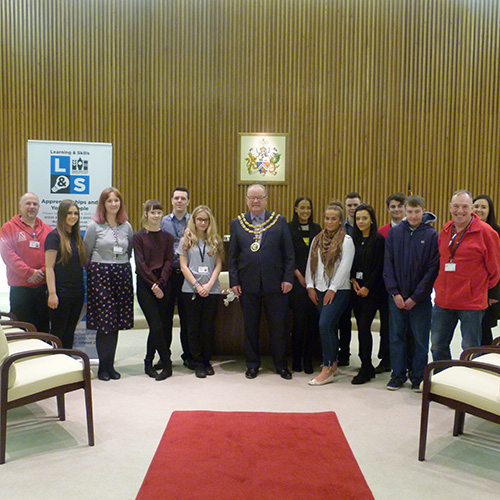 NOCN Customer Satisfaction Survey draw presentation
Clare Friskney at Learning & Skills, Darlington Borough Council recently completed the NOCN customer satisfaction survey and was one of the lucky recipients of a Kindle.
Clare and her colleagues at Learning & Skills was presented with her Kindle by Darren Howells, Head of Account Management at NOCN. Clare said on being presented with her prize "This is just what I needed for my summer holiday in Cyprus. I love working with all the staff at One Awards they are always helpful and friendly".
Pictured left to right: Josh Parker, Ian Saunders, Clare Friskney and Alicia Santese from Darlington Borough Council with Darren Howells from NOCN.
Hippodrome 
Over a number of weeks, our Study Programme learners worked at the Hippodrome finding out about the story and the history of the theatre, its restoration, including funding for restoration. They have researched jobs in a theatre and developed the characters (ghosts, and ghostbusters) they eventually played in the Ghost Tour.
Many of the young people were anxious and nervous about getting involved, having never been to a theatre before, but working with the Actors' Guild, alongside our tutors Debbie, Grainne and Jackie, the learners enjoyed a highly enriching experience, boosting their confidence, developing their cultural awareness and being genuinely appreciated by the people who went on the Tour. They all achieved a level 1 arts award as a result on top of their overall qualifications.