News and reviews
News, reviews and more
Welcome to the page where we shine a light on our service and keep you updated with news, visits and events 
You'll find good news stories, articles from events we have attended, learner case studies, testimonials and lots more below. 
That's not all. We have also included links to our Study Programme and Apprenticeship service news, reviews and success stories.
Make sure to check them out too. 
Apprenticeships
Visit our Apprenticeships page for the latest news, reviews, quotes and success stories.
Study Programme
Visit our Study Programme page for the latest news, reviews, quotes and success stories.
Stronger Community Awards 2023
Learning & Skills occupied all three finalist positions in the Vocational Excellence category at the Stronger Communities Awards 2023 held in November. Congratulations to finalists, Jamellia Greenhough-Lee, Sarah Mortley, and eventual winner AnnMarie Bainbridge on their achievements. The event was a great evening and a massive success for Learning & Skills to showcase these achievements, building on our success from previous years.
Level 3 Early Years Educator
Congratulations to Anne Marie Bainbridge who has successfully completed her Level 3 Early Years Educator Course with us, funded by the Tees Valley Combined Authority. Anne Marie has gained employment within this sector and is looking forward to the challenges her new life brings.
Anne Marie said, "Thank you to my tutor Laura for all your support and encouragement during my educational journey in achieving my diploma. I couldn't be prouder and you can do anything if you put your mind and effort to it, you just have to want to do it and take the jump. I'm an older learner so of course it can be scary, but not only did I complete my diploma, I also obtained my Certificate in Autism alongside it which is a massive benefit to my new role as an Early Years Educator 💖💙"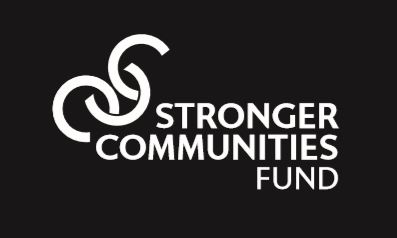 Stronger Community Awards 
Learning & Skills has had three learners nominated for the Stronger Community Awards 2023 and all three have made the final. The learners through to the final are from our Apprenticeship and Adult Diploma areas.
Graham Curry, Apprenticeship Manager, said, "This is excellent news for all involved and the third year in a row that Learning & Skills have had a finalist at the awards. Good luck to everyone."
Early Years Educator Success for Sarah
Sarah has become the first level 3 funded learner to complete the L3 Diploma in Early Years Educator with Learning & Skills. Sarah managed to complete the course in under 12 months with support from Laura Dowker (Learning & Skills Tutor).
Sarah has been an outstanding learner, who has secured immediate full-time employment in early years on completion of the course, and will move on to working in the foundation unit in her local school.
She has also decide to progress further in the sector and has been accepted for an Undergraduate in Education Studies (Primary ED), beginning this Autumn.
Good Luck for the future from the Learning & Skills Team.
Darlington Jobs Fair 2023
Learning & Skills had a brilliant time meeting new and old employers, partners and learners at the 2023 Darlington Jobs Fair. It was another fantastic event and we even the team were praised for helping out others as long the way as well.
Debbie Brown, Learning & Skills tutor and learners, Harrison, Eileen-Ivy, Adam, Aiden and Kadiza, who are on our 16-19 Study Programme, helped to give out giveaway bags on the day and were praised by Carole Earl - Business Growth and Investment Officer,  "Debbie and her team of three learners, kindly came along to the Dolphin Centre to help with the recent jobs fair. They helped us to stuff over 2,000 giveaway bags for people attending the fair and their help was truly invaluable. Thanks to them all!" 
Bravery Award Nomination for L&S Trainer/Assessor
Steven Mair, L&S Motor Vehicle Trainer/ Assessor and a Staff Sergeant with 124 Company, 102 Battalion REME, has now been shortlisted as a finalist in the bravery category of the BBC Radio Tees Make a Difference Awards, with the winners to be revealed at a special ceremony in September. A strange coincidence is, the young man Steven saved is the brother of a previous L&S Motor Vehicle Apprentice who owns a vehicle repair business located in the same premises in which Steven had his own vehicle repair business before he joined L&S.
Commenting on the incident Steven said "I heard a noise, turned around and there was a man bleeding everywhere. I grabbed my trauma kit from the car and all the training I've done as a reservist over the last 20 years just kicked in," Steven will be interviewed by BBC Radio Tees on 29th June 2023 to discuss the axe attack incident and we all hope he gains the recognition he deserves for his bravery.
Make a Difference: BBC Radio Tees - Steven Mair (Bravery) - BBC Sounds [external link]
Learning service celebrates good Ofsted report
Learners and staff from Learning & Skills Darlington are celebrating after the service was graded 'good' by Ofsted. Learning & Skills offers a wide range of learning opportunities for all ages, including family learning; study programmes; adult learning; apprenticeships and diplomas.
Inspectors visited the service, which has bases at the Coleridge Centre, Bennet House and Lingfield, in June this year.
Their report stated that "Learners and apprentices learn in a calm and welcoming learning environment where they feel valued and respected. Teachers are caring and very supportive. Learners and apprentices quickly settle into their learning with the support of their tutors. Tutors spend time getting to know their learners, which enables them to understand and anticipate potential challenges and provide learners with good support and encouragement."
The inspectors were particularly impressed by the service's English for Speakers of Other Languages (ESOL) provision, stating "Learners on ESOL courses who are newly arrived in the country develop new friends and support networks which helps them to settle more easily and feel valued."
In relation to Ukrainian refugees who have recently accessed the service, the inspectors said; "Adult learners who have recently entered the country as refugees from war-affected countries are supported well to learn English."
The report also recognised the service for its caring and supportive nature, recognising how all learners feel valued, motivated and respected and are presented with good support and encouragement.
Alaine McCartney, Learning & Skills manager, said: "The 'good' Ofsted judgement is testament to the staff's hard work and commitment to ensure every learner, apprentice, employer and partner receives a high-quality learning experience. We are very proud of the achievement but know the hard work doesn't stop here as our journey is about continual improvement, innovation and reaching outstanding".
Councillor Jon Clarke, cabinet member for children and young people: "Learning & Skills provides a valuable service to people in Darlington from all different walks of life and of all ages. I am delighted that its hard work and commitment to education and developing skills has been recognised. "It is never too late to learn and gain new skills and I would advise anyone who has ever thought about returning to education or boosting their skills to get in touch".
The full Ofsted report can be read at: www.reports.ofsted.gov.uk [external link]
Stronger Community Awards
We attended the 2021 Stronger Community Awards after nominating many of our deserving apprentices for their achievements over the last 12 difficult, months.
Two of our apprentices, Mario Krupa (Motor Vehicle) and Connor McClearn (Care), made the three finalist positions for the Vocational Excellence Award!
Mario, of Stabler's Garage Ltd in Darlington, who started on the Level 2 Motor Vehicle Study Programme and achieving this during the pandemic, then progressing onto the Level 3 Motor Vehicle Service and Maintenance Technician (Light Vehicle) Apprenticeship, was chosen as the successful recipient of the award.
Well done Mario, and well done Conner for making it to the finals!
Peter Gibson MP for Darlington visits Learning & Skills
Today we welcomed Peter Gibson, MP for Darlington, to Learning & Skills.
Peter met and spoke with staff and learners across all three of our venues, witnessing apprentices in action in our workshops and courses taking place in our classrooms. Thanks for visiting Peter Gibson MP, we hope you enjoyed your quick insight into 'Darlington's best kept secret'.
September 30 2021
The new Mayor of Darlington visits our Flexspace venue
We welcomed the new Mayor of Darlington, Cllr. Cyndi Hughes, to our Flexspace, Lingfield Way units this morning.
The Mayor toured our classrooms and our Site Joinery and Motor Vehicle workshops, gaining a valuable insight into the facilities we offer to potential apprentices.
The Mayor had the opportunity to speak with the Learning & Skills service manager, the Apprenticeship manager, the Site Joinery and Motor Vehicle Mechanics tutors as well as meet two learners currently studying for their Diploma in Motor Vehicle Mechanics.
Thank you for your visit Cllr. Cyndi Hughes and we look forward to your future visits with us.
September 30 2021
Learning & Skills Online Open Event Success!
Thank you to the general public and to all the councillors and colleagues who attended our recent open event.
It was great to see so many people in attendance and to hear your views and answer your questions. We hope that you all got to know our service a little bit better. Referrals are now coming through thick and fast - thank you!
The Mayor of Darlington, Cllr. Cyndi Hughes, kindly opened the event for us with this powerful video praising our service and showcasing some amazing examples of success stories she's witnessed at Learning & Skills. Please give it a watch.
August 5 2021
Easter In The Park
Deputy Mayor, Cllr. Cyndi Hughes met with children and families taking part in outdoor holiday activities organised by ourselves in beautiful South Park this morning.
To improve the mental and physical wellbeing of families in Darlington, we organised a number of free, fun family workshops over Easter which involved egg and spoon races, a fun trail around the park, art and crafts activities and lots more.
Not forgetting the free chocolate everyone who attended received!
April 8 2021
Congratulations
Congratulations to Louise Maddison. She recently completed her Level 3 Award in Education & Training with us and today she received her certificate. ⁠
⁠
You all may know Louise better as one of the founders of Cornerstone Arts in Darlington (in the old Marks and Spencer's building).
From the connections we have made with Louise through our effective teaching and service promotion, we are, from Wednesday 9th December, partnering with Cornerstone Arts to deliver courses from their venue.
⁠
We have also linked with them for work experience for Study Programmes.⁠
⁠
Congratulations to Louise for achieving her Level 3 Award in Education & Training and thank you for helping us to link up with Cornerstone Arts
December 3 2020
Surprise visit from the Mayor of Darlington
Today we received an unannounced visit from the Mayor of Darlington in response to our awesome colleague Heather talking about our service at the Healthwatch live event! Here's what the mayor said: 
"Given my interest in Youth Unemployment, I popped by to hear about the great work that the Learning and Skills Team are delivering for 16-18 year olds out of Bennet House - to improve their chances of employment or further training. So important in these times.
Small group sizes in a friendly environment make sure that all learners succeed and enjoy their time with L&S. Call Mally Bleasby for more information on 01325 406422 if you or anyone you know may benefit from this great programme. Here we have Mally and Heather."
November 23 2020
Top 6% in the UK during Lockdown!
HOLEX (the lead professional body for Adult Community Education and Learning) recently undertook a survey of Adult Community Enterprise providers across the UK which showed that at the start of April, only 6% of providers had moved to 100% online following on from the Prime Minister's lockdown announcement.
We are part of that percentage. We're also the top provider in the Tees Valley area for online learning too. A huge well done to everyone at Learning & Skills!
July 2020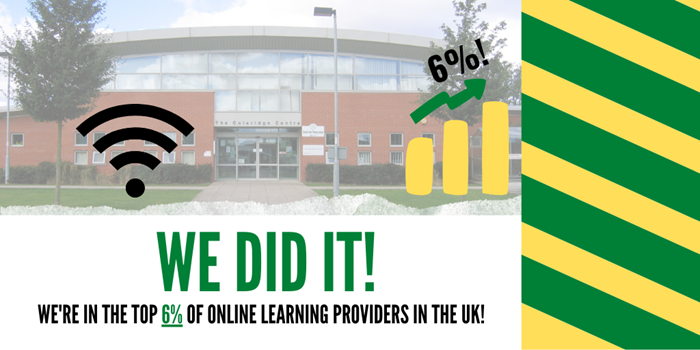 National Careers Week, 2nd - 7th March 2020
We were out and about at local fairs, schools and colleges answering your questions about careers, jobs and your future.
Why not take the Skills Assessment [external link] on the National Careers Service website to find out what type of job categories and particular job roles may suit you?
Student-Staff Partnerships – Technology for Learning
Funded by the Education and Training Foundation (ETF) and managed by the Strategic Development Network (SDN), projects were commissioned across the country; to explore how the digital capability of students can be harnessed to support staff in their use of technology for teaching, learning and assessment.
Darlington Borough Council's Learning & Skills team joined the North East project group led by Bishop Auckland College.
Students worked with their tutors to choose a form of technology which they felt could benefit and encourage the use of digital skills within the learning environment.
Funding from the SDN was given to reward the students for their participation.
Simon Moore who led the group reported that the project had been a huge success and learners had embraced the use of technology.
One of the groups did however comment on how the online environment is having a detrimental effect to our high street, and so for that reason it was agreed that after enhancing their digital capabilities the learners would be rewarded with high street vouchers in a move to highlight the importance of our town centres.
Volunteer Fair 2020
We were happy to be invited to the Volunteer Event this year which took place at the Dolphin Centre.
We sent Ruth Owen-Hughes (Volunteer Lead) and Heather Jarvis-Jewell (Volunteer turned Tutor) down at the fair to welcome potential volunteer and promote our volunteer service.
It was an added bonus to be able to network with more services across the town which will help with the recruitment of future volunteers.
If you're interested in volunteering with Learning & Skills please contact us. We're also delivering a free volunteering course which will enable you to develop the skills needed to be a volunteer. For more information see our community learning page.
Darlington Pride 2019
Learning & Skills took part in Darlington's annual Pride event in June 2019! As well as attending to show our support and commitment to the LGBTQ+ community in the town, we also recruited for our free Equality and Diversity training to educate and end the discrimination some diverse communities face day to day.
Here's Heather, Simon and one of our volunteers manning the stall! 
Book Fest 2019
A festival around World Book ​Day was based in and around Crown Street Library in Darlington during the week commencing 4th March 2019.
BookFest brought families together offering them the opportunity to step widely out of their comfort zone and try something new together.
Incorporating arts, literature and learning, BookFest provided an abundance of opportunity for families.
Throughout the week 23 events were held for the public and an additional 8 events as part of the Schools Programme.
740 participants (and their families) came to events including Author and Illustrator talks, Storytelling, Cupcake Decorating and Sewing Workshops, Lego Parties and a family friendly 60s Rock Gig. 
Learning & Skills offered a variety of sessions throughout the week for adults which were attended by parents, grandparents and child minders.
Pat Davies, Learning & Skills tutor, who delivered a Story Box session (a story box is a miniature setting, a shoe box-sized stage with a background and objects within it relating to either a specific book, or to a common story scenario) said:
"We discussed what a story box is and how they can be used with children for retelling stories and stimulating their imagination for telling their own stories.
I demonstrated a box which could be used for several stories (such as the Gruffalo, 3 bears) to link in with the themes of the library's new benches, Julia Donaldson stories, fairy stories and Roald Dahl stories.
I provided the group with boxes and a variety of resources to make their own story boxes based on their child's favourite book or a scene that the children could use their imagination and make up their own stories.
The group was enthusiastic and used the resources to make some very imaginative story boxes."
Janice Ford delivered the Fun with Fabrics session and says:
"The session involved using felt and re-cycled materials to produce an applique design suitable for children's clothing.
We discussed the different techniques used for applique using hand sewing techniques. The room at the library was warm and welcoming with good lighting.
The practical task was a success with all learners completing one applique sample.
Some used the designs and patterns from the examples provided by the tutor and others proved to be quite creative by drawing and using their own design.
Materials were provided and were more than adequate to complete the task. The session proved to be a success with everything going according to plan and with good support from library staff." 
NOCN Customer Satisfaction Survey draw presentation
Clare Friskney at Learning & Skills, Darlington Borough Council recently completed the NOCN customer satisfaction survey and was one of the lucky recipients of a Kindle.
Clare and her colleagues at Learning & Skills was presented with her Kindle by Darren Howells, Head of Account Management at NOCN.
Clare said on being presented with her prize:
"This is just what I needed for my summer holiday in Cyprus.
I love working with all the staff at One Awards they are always helpful and friendly".
Stronger Community Awards 2023
Congratulations to AnnMarie Bainbridge who won the Vocational Excellence Award at the Stronger Community Awards held in November 2023. AnnMarie is pictured with her manager Michelle of Lowson St Preschool in Darlington.
AnnMarie thoroughly deserved the award after completing her Level 3 Early Years Educator course with us and gaining employment at Lowson St Preschool. She overcame all the challenges that come with being an adult learner and is now looking forward to her continued work in early years.
AnnMarie beat off competition for the award from two other Learning & Skills nominees, Jamellia Greenhough-Lee and Sarah Mortley who both came a close 2nd for the award.
On behalf of Learning & Skills we would like to congratulate AnnMarie on her award and wish her every success for the future.
Learning for Leisure
Derek Dryden has attended a variety of cookery courses with Learning & Skills, he recently attended the Indian Cookery course.
"I found the course a really relaxing, enjoyable and educational experience. Reshma is very patient and knowledgeable: the recipes are varied and very tasty. 
As always, I find when you try a recipe, there are slight alterations you might make for the second time you try it.
Because there are spices involved, you need to consider your own taste: whether you prefer more or less spice (to be honest, the spice strength in the recipes are generally very modest, so don't be afraid to be a little braver, if that's your preference). 
Having completed the initial course, my confidence and range of recipes has widened a lot."
Family Learning
"The course helped me find stories that my children liked so I could encourage them to read. Before they were not interested."
"I can now help my children with homework because I can do it the way the teacher teaches them."
"We read and learn together I help him with his homework and he helps me with mine!"
"I feel since I have been attending the family courses that my daughter has got more confident in herself and the homework and stuff she does at school . She has come out of herself so much."
"I have been able to capture my son's imagination. He is now very keen on writing."
Testimonials
Triage Darlington, ESOL Support Enquiry
"I would just like to add how helpful and amazing Jamellia (Learning & Skills Advisor) was on the phone yesterday, it is evident she enjoys her job as she confidently discussed with me all the different ESOL courses you have and highlighted how as a business you listen to your students and try to do the best for them. Her bubbly nature was infectious and left me with a smile"
Anne Marie Bainbridge, Level 3 Early Years Diploma
"Thank you to my tutor Laura for all your support and encouragement during my educational journey in achieving my diploma. I couldn't be prouder and you can do anything if you put your mind and effort to it you just have to want to do it and take the jump.  I'm an older learner so of course it can be scary, but not only did I complete my diploma, I also obtained my Certificate in Autism alongside it which is a massive benefit to my new role as an Early Years Educator 💖💙"
Lisa Porritt, Distance Learning Level 2 Counselling course
"I really enjoyed completing the Distance learning Counselling Course and developing my knowledge in this subject matter further – I feel that I learned a lot.
I do intend to look for more available training in respect of Counselling, in order to expand my knowledge and experience of the subject matter further.
It is an interest, and long term goal of mine to eventually gain higher qualifications in respect of CAMHs and counselling, and by completing this course it has further piqued my interest and desire to pursue this as an option and to eventually transition into this area as a future career path."
Linda, Italian course
"I have thoroughly enjoyed attending Italian courses with Shan.
She gives us a good challenge but also has a good sense of humour. Caters at the right pace and she gives good feedback and explanations which help me to grasp the Italian language more easily".
Natasha, Functional Skills ICT (Entry Level 2 – Level 2)
"The learning I have had has been fantastic. I think the initial assessment procedure is brilliant. I only started   in April 2015 as an Entry Level 2 and now in November 2015 I am on Level 2. I wouldn't have been able to do this without Glyn whom is a very patient teacher".
Ashley, Family Learning course
"My son was choking on a piece of bread, I knew what to do straight away as we had covered choking in my Family Safety Course the week before – I was so pleased I had completed the course I dread to think what would have happened".
Intensive Support Learner
"I now have the confidence to move on to other courses, I really want to improve my writing I feel okay joining in with a group now".
Pauline, Italian course
"Thanks so much. I am so happy that the class is to continue, in view of the cutbacks being announced.
I cannot begin to tell you what a difference being able to converse in Italian made to our holiday in Bologna.
It was wonderful to be able to speak to, and understand people in shops, restaurants, railway stations for example. My husband was very impressed. Can't wait to learn more".