News, Testimonials and Success Stories
Distance Learning Testimonial
"I really enjoyed completing the Distance learning Counselling Course and developing my knowledge in this subject matter further – I feel that I learned a lot. I do intend to look for more available training in respect of Counselling, in order to expand my knowledge and experience of the subject matter further. It is an interest, and long term goal of mine to eventually gain higher qualifications in respect of CAMHs and counselling, and by completing this course it has further piqued my interest and desire to pursue this as an option and to eventually transition into this area as a future career path."

Lisa Porritt - January 2021
Congratulations to Louise Maddison. She recently completed her Level 3 Award in Education & Training with us and today she received her certificate. ⁠
⁠
You all may know Louise better as one of the founders of Cornerstone Arts in Darlington (in the old Marks and Spencer's building). From the connections we have made with Louise through our effective teaching and service promotion, we are, from Wednesday 9th December, partnering with Cornerstone Arts to deliver courses from their venue.
⁠
We have also linked with them for work experience for Study Programmes.⁠
⁠
Congratulations to Louise for achieving her Level 3 Award in Education & Training and thank you for helping us to link up with Cornerstone Arts
3rd December 2020
Surprise visit from the Mayor of Darlington
Today (23rd November 2020) we received an unannounced visit from the Mayor of Darlington in response to our awesome colleague Heather talking about our service at the Healthwatch live event! Here's what the mayor said: 
"LEARNING AND SKILLS
Given my interest in Youth Unemployment, I popped by to hear about the great work that the Learning and Skills Team are delivering for 16-18 year olds out of Bennet House - to improve their chances of employment or further training. So important in these times.
Small group sizes in a friendly environment make sure that all learners succeed and enjoy their time with L&S.
Call Mally Bleasby for more information on 01325 406422 if you or anyone you know may benefit from this great programme. Here we have Mally and Heather."
Well done Lana!
Many congratulations to one of our Level 3 Apprentices, Lana Kasagic, who recently passed Level 3 Business Administration with distinctions in all areas. Lana now works for law firm Watson Woodhouse Solicitors in Middlesbrough. The company is paying for her to go to university, which she started on 18th September.  Lana was in Leeds last week helping her new manager with a big legal case. Her tutor Barbara say Lana is super excited about her new role as a Trainee Solicitor – we wish her the very best for her future legal career.
October 2020
Apprenticeships during COVID-19
At the beginning of August we asked some of our apprentices how they felt as a result of COVID19 forcing our apprenticeship delivery to move online. Here's what Helen, Naomi and Kieron said:
Naomi Dixon (Housing Plus Officer)
Level 4 Business Administration Apprentice
"It was daunting entering the world of learning again as an adult. Especially to be classed as a apprentice, which is pre-conceived to be for younger students... Then COVID19 hit and I no longer had the comfort of the classroom. My tutor is amazing. All classes and learning continued regardless. The course was adapted to be online and Amanda introduced new ways of keeping the group motivated and together, making things more imaginative. Her support has been inspirational. I look forward and my Teams classes. I feel that I have made firm friends and wish I had continued my learning a long time ago. I am proud of what I am achieving"
Helen Crosleigh (Contact Team Coordinator)
Level 4 Business Administration Apprentice
"Although I liked the face to face interactions from my course I have found Amanda (Tutor) made the transaction to moving our course online a very simple and straightforward process.  We use Microsoft Teams for our college days and to share presentations. I feel the students have interacted more as a group since moving online and I also enjoy 1:1's as it's easier to connect for a quick catch up via Teams if needed than to think about arranging a meeting"
Kieron Glenning (Primary Teaching Assistant)
Level 3 Supporting Teaching & Learning Apprentice
"Working through a pandemic has taught me a lot and has taught me to be mentally stronger too. The Apprenticeship team and staff have all been a massive help and have always been there it has been a massive challenge but to overcome it is great"
Top 6% in the UK!
HOLEX (the lead professional body for Adult Community Education and Learning) recently undertook a survey of Adult Community Enterprise providers across the UK which showed that at the start of April, only 6% of providers had moved to 100% online following on from the Prime Minister's lockdown announcement.
We are part of that percentage. We're also the top provider in the Tees Valley area for online learning too. A huge well done to everyone at Learning & Skills!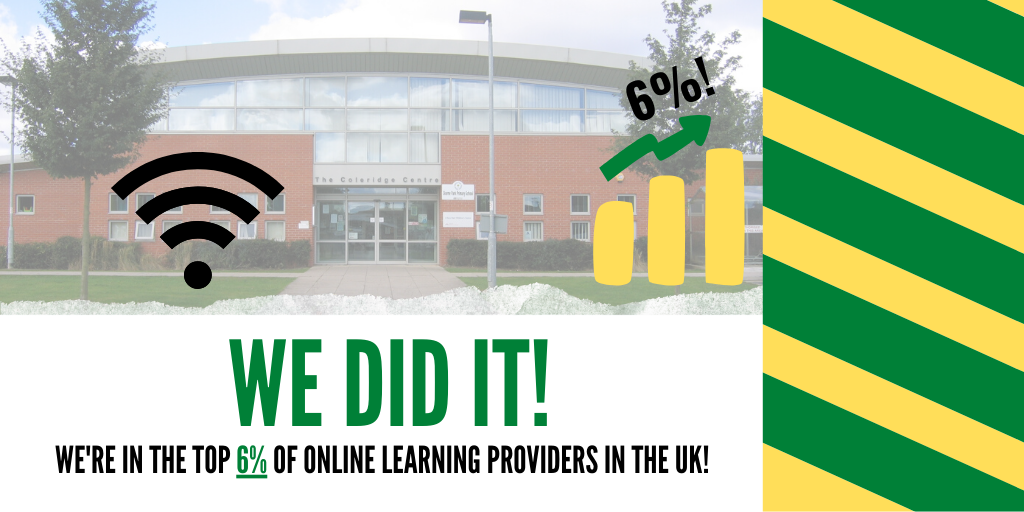 National Careers Week, 2nd - 7th March 2020
We were out and about at local fairs, schools and colleges answering your questions about careers, jobs and your future. Why not take the Skills Assessment [external link] on the National Careers Service website to find out what type of job categories and particular job roles may suit you?
Apprenticeship Week Competition Winners!
During National Apprenticeship Week 2020, we asked our apprentices to come up with a quote or myth-busting fact about their apprenticeship.
We had many quotes submitted and we are happy to say congratulations to both Jack Thompson and Saskia Foster who have each won a £10 Greggs gift card.
National Apprenticeship Week is an annual occurrence with the aim of celebrating apprentices' achievements and their positive effect on local businesses.
We celebrated Apprenticeship Week with a variety of different activities, including hosting the Tees Valley Apprenticeship Challenge 2020 and having the Apprentice quote/Myth Busting competition. We spoke to a range of local employers and apprentices in regard to the positive impacts the apprenticeship has had on them and showcased the impacts on their website and social media.
Saskia Foster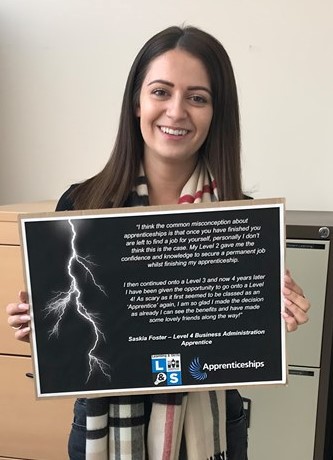 Jack Thompson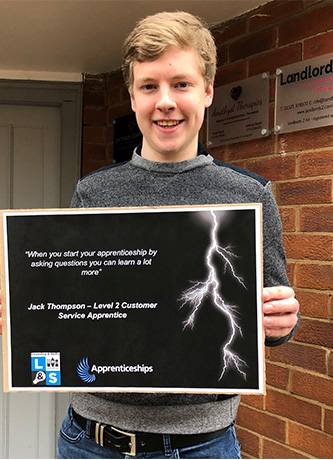 Saskia's quote
I think the common misconception about apprenticeships is that once you have finished you are left to find a job for yourself, personally I don't think this is the case. My Level 2 gave me the confidence and knowledge to secure a permanent job whilst finishing my apprenticeship. I then continued onto a Level 3 and now 4 years later I have been give the opportunity to go onto a Level 4! As scary as it first seemed to be classed as an 'Apprentice' again, I am so glad I made the decision as already I can see the benefits and have made some lovely friends along the way!
Jack's quote
When you start your apprenticeship by asking questions you can learn a lot more.
Well done Bobby!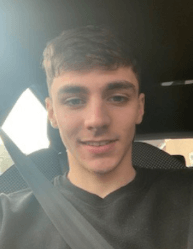 Bobby Dobbs, who completed an Advanced Apprenticeship in Specialist Support Teaching and Learning in Schools is now employed in the Special Educational Needs team with Durham County Council.
"I started my apprenticeship purely to get an insight into the day to day life within a school and to see if that was a career I would like to peruse. I had already worked in schools, as a volunteer during sixth form, working on the arts as part of the drama group I was in and this is what sparked the interest of working in education. Already knowing that I wanted to work with special needs, I thought that this would be a great chance at starting some sort of career path. I loved my apprenticeship and I would do it all over again if I could.
In late 2018, I gained employment through Durham County Council. Although it's not in education, it is working with people who have SEN. My job is to help them find employment, whilst helping develop their skills for that role - very different to what I loved doing last year however, thanks to my qualification, I could return to a school (or try many other things) if it doesn't work out for me with the council.
A huge part of why I have loved the last year is the constant contact and support I received from my tutor and Learning & Skills and I could not recommend them enough."
National Apprenticeship Week 2020
National Apprenticeship Week is an annual occurrence with the aim of celebrating apprentices' achievements and their positive effect on local businesses.
This year Apprenticeship Week took place from 3rd February to 7th February 2020 with the theme of "Fire It Up". The theme aimed to fire up conversations between apprentices, teachers and parents around apprenticeships. 
We celebrated Apprenticeship Week with a variety of different activities, including hosting the Tees Valley Apprenticeship Challenge 2020. We spoke to a range of local employers and apprentices in regard to the positive impacts the apprenticeship has had on them and showcased the impacts on their website and social media.
Tees Valley Apprenticeship Challenge 2020
This year, as #TeamDarlo won the 2019 Tees Valley Apprenticeship Challenge, we were passed the baton to host the Tees Valley Apprenticeship Challenge 2020. We thought we'd try something a little different this year and went for brain power over physical power. We arranged for the teams to compete in two escape rooms and a mystery trail around Darlington all hosted by Cluedini Live Escape Rooms Darlington [external link] (thanks guys!). 
Congratulations to #TeamStockton who won this year's challenge by escape booth escape rooms in the quickest combined time. We'll see you in Stockton for the Tees Valley Apprenticeship Challenge 2021. Thanks you to all of the apprentices and staff from Redcar & Cleveland, Middlesbrough, Stockton and Darlington for participating. Commiserations to us here at #TeamDarlo who fell from grace this year and came dead last. We'll make sure to come back bigger and better next year!
We were happy to be invited to the Volunteer Event this year which took place at the Dolphin Centre. We sent Ruth Owen-Hughes (Volunteer Lead) and Heather Jarvis-Jewell (Volunteer turned Tutor) down at the fair to welcome potential volunteer and promote our volunteer service. It was an added bonus to be able to network with more services across the town which will help with the recruitment of future volunteers.
If you're interested in volunteering with Learning & Skills please visit our Volunteer Page.
We're also delivering a free volunteering course which will enable you to develop the skills needed to be a volunteer. Click here for further information.
Food for Thought Project
Our Study Programme students lent a helping hand with the Food for Thought Project in December 2019. Thanks guys, great work! 
Student-staff partnerships – technology for learning
Funded by the Education and Training Foundation (ETF) and managed by the Strategic Development Network (SDN), projects were commissioned across the country; to explore how the digital capability of students can be harnessed to support staff in their use of technology for teaching, learning and assessment.
Darlington Borough Council's Learning & Skills team joined the North East project group led by Bishop Auckland College. Students worked with their tutors to choose a form of technology which they felt could benefit and encourage the use of digital skills within the learning environment. Funding from the SDN was given to reward the students for their participation.
Simon Moore who led the group reported that the project had been a huge success and learners had embraced the use of technology. One of the groups did however comment on how the online environment is having a detrimental effect to our high street, and so for that reason it was agreed that after enhancing their digital capabilities the learners would be rewarded with high street vouchers in a move to highlight the importance of our town centres.
National Apprenticeship Week 2019
National Apprenticeship Week is an annual occurrence with the aim of celebrating apprentices' achievements and their positive effect on local businesses.
This year Apprenticeship Week took place from 4th March to 8th March with the theme of "Blazing a Trail". The theme aimed to showcase the new energy and passion that apprentices can bring to the workplace, promoting apprenticeships as a positive route for anyone looking to gain new skills or change their career.
Darlington Borough Council Learning & Skills has celebrated Apprenticeship Week with a variety of different activities. They have spoken to a range of local employers and apprentices in regard to the positive impacts the apprenticeship has had on them and showcased the impacts on their website and social media.
During apprenticeship week, current apprentices have taken part in a competitive step challenge to encourage health and well-being. They have also arranged a drop-in event at the Town Hall where members of staff could gain more information about apprenticeships and the positive effect they could have on their department, looking at success stories and the opportunity for up-skilling staff.
The biggest event of the week was the Tees Valley Apprenticeship Week challenge which involves teams of apprentices from all five Tees Valley local authorities competing in a range of mental and physical tasks. Middlesbrough Council Community Learning hosted the event at Middlesbrough Sports Village on Thursday 7th March.
During the day the apprentices had to communicate effectively in relay challenges with Functional Skills twists, undertake team building exercises and sprint challenges as well as other physical activities. Darlington Borough Council apprentices were the overall winners of the event and will assume responsibility of hosting next year's challenge.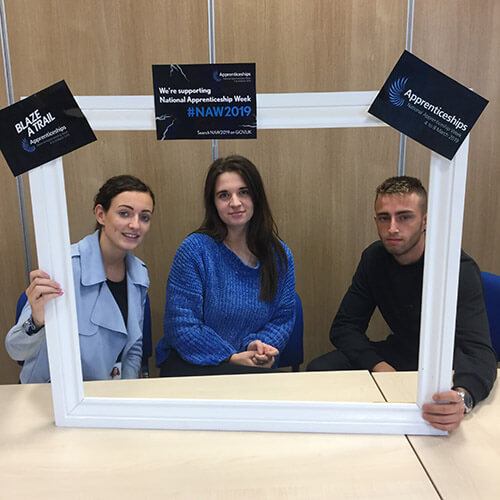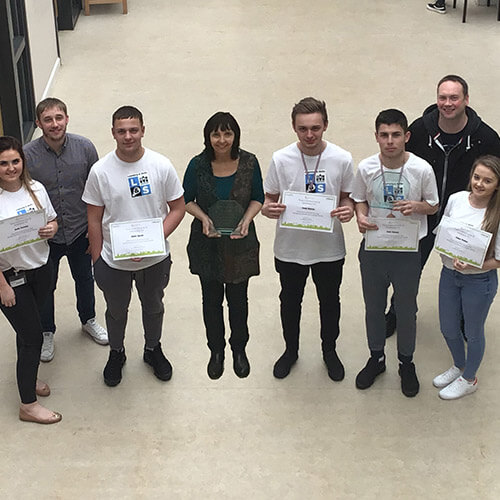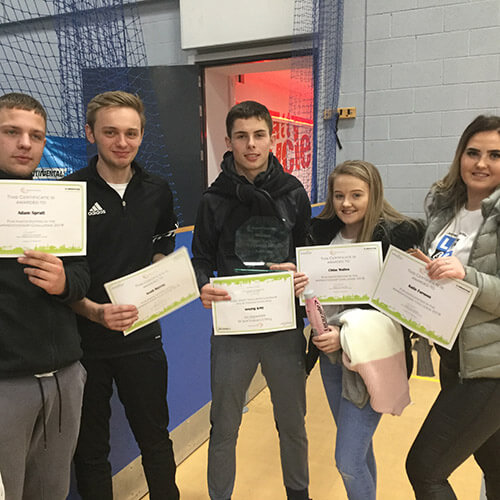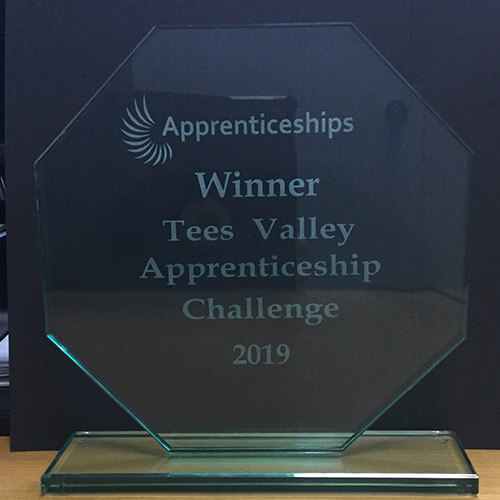 Book Fest 2019
A festival around World Book Day was based in and around Crown Street Library in Darlington during the week commencing 4th March 2019. BookFest brought families together offering them the opportunity to step widely out of their comfort zone and try something new together. Incorporating arts, literature and learning, BookFest provided an abundance of opportunity for families.
Throughout the week 23 events were held for the public and an additional 8 events as part of the Schools Programme. 740 participants (and their families) came to events including Author and Illustrator talks, Storytelling, Cupcake Decorating and Sewing Workshops, Lego Parties and a family friendly 60s Rock Gig. 
Learning & Skills offered a variety of sessions throughout the week for adults which were attended by parents, grandparents and child minders. Pat Davies, Learning & Skills tutor, who delivered a Story Box session (a story box is a miniature setting, a shoe box-sized stage with a background and objects within it relating to either a specific book, or to a common story scenario) said: "We discussed what a story box is and how they can be used with children for retelling stories and stimulating their imagination for telling their own stories. I demonstrated a box which could be used for several stories (such as the Gruffalo, 3 bears) to link in with the themes of the library's new benches, Julia Donaldson stories, fairy stories and Roald Dahl stories. I provided the group with boxes and a variety of resources to make their own story boxes based on their child's favourite book or a scene that the children could use their imagination and make up their own stories. The group was enthusiastic and used the resources to make some very imaginative story boxes."
Janice Ford delivered the Fun with Fabrics session and says, "The session involved using felt and re-cycled materials to produce an applique design suitable for children's clothing. We discussed the different techniques used for applique using hand sewing techniques. The room at the library was warm and welcoming with good lighting. The practical task was a success with all learners completing one applique sample. Some used the designs and patterns from the examples provided by the tutor and others proved to be quite creative by drawing and using their own design. Materials were provided and were more than adequate to complete the task. The session proved to be a success with everything going according to plan and with good support from library staff." 
Best Apprenticeships in the Tees Valley
Learning & Skills has the best success rate across all age groups for all levels and all types in the Tees Valley compared to all other local authorities and colleges. It is in the top 3% of highest achievement rates of all institutions in the country (22/735), in all areas for 16-18, 19-23 and all age apprenticeships. This is fantastic news and testament to hard work put in by the staff and learners involved.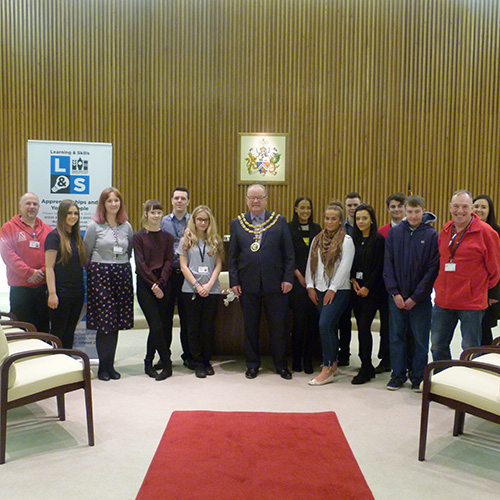 NOCN Customer Satisfaction Survey draw presentation
Clare Friskney at Learning & Skills, Darlington Borough Council recently completed the NOCN customer satisfaction survey and was one of the lucky recipients of a Kindle.
Clare and her colleagues at Learning & Skills was presented with her Kindle by Darren Howells, Head of Account Management at NOCN. Clare said on being presented with her prize "This is just what I needed for my summer holiday in Cyprus. I love working with all the staff at One Awards they are always helpful and friendly".
Hippodrome 
Over a number of weeks, our Study Programme learners worked at the Hippodrome finding out about the story and the history of the theatre, its restoration, including funding for restoration. They have researched jobs in a theatre and developed the characters (ghosts, and ghostbusters) they eventually played in the Ghost Tour.
Many of the young people were anxious and nervous about getting involved, having never been to a theatre before, but working with the Actors' Guild, alongside our tutors Debbie, Grainne and Jackie, the learners enjoyed a highly enriching experience, boosting their confidence, developing their cultural awareness and being genuinely appreciated by the people who went on the Tour. They all achieved a level 1 arts award as a result on top of their overall qualifications.
"My Level 3 apprenticeship with Learning and Skills has helped me begin my career pathway in Housing. Learning in the centre has allowed me to put my skills and knowledge into practice and I feel I have been fully supported throughout."
Chloe Pratt 
Allocations Support Assistant
"I enjoy coming to Learning & Skills Study Programme. The tutors are very supportive and have helped me with my studying. I look forward to joining the Motor Vehicle Diploma course and then becoming an Apprentice"
Ayman Alammar
Study Programme
"Learning & Skills Service gave me a great opportunity to learn valuable knowledge and skills to further develop the skills needed in the workplace. I have successfully completed both a Level 2 in Business and Administration and a Level 3 NVQ in Customer Services. The support given by both the management and colleagues in the workplace and the supportive guidance and training from Barbara, has helped secure a full-time position within the Customer Services environment and has also widened the horizon for future prospects."
Daniel Hope
Customer Service Adviser
Learning for Leisure 
Derek Dryden has attended a variety of cookery courses with Learning & Skills, he recently attended the Indian Cookery course. "I found the course a really relaxing, enjoyable and educational experience. Reshma is very patient and knowledgeable: the recipes are varied and very tasty. 
As always, I find when you try a recipe, there are slight alterations you might make for the second time you try it. Because there are spices involved, you need to consider your own taste: whether you prefer more or less spice (to be honest, the spice strength in the recipes are generally very modest, so don't be afraid to be a little braver, if that's your preference). 
Having completed the initial course, my confidence and range of recipes has widened a lot."
Community Learning 
Fiona Gaffney, 73, joined the Watercolours course. She joined the course after seeing an advert in the local paper and decided it might be for her as she loved art from the time she was at school; however, due to the curriculum in school she was unable to continue art and instead joined a music course.
Fiona joined as a beginner and then progressed to an intermediate level and then advanced, and she is now fully confident in painting with watercolours, although she feels that she is still learning and has a lot more to learn. Her Tutor, Kit, delivered the Watercolours courses at Crown Street Library and the Coleridge Centre.
Family Learning
"The course helped me find stories that my children liked so I could encourage them to read. Before they were not interested."
"I can now help my children with homework because I can do it the way the teacher teaches them."
"We read and learn together I help him with his homework and he helps me with mine!"
"I feel since I have been attending the family courses that my daughter has got more confident in herself and the homework and stuff she does at school . She has come out of herself so much."
"I have been able to capture my son's imagination. He is now very keen on writing."
Apprentice of the Year
Darlington Borough Council, Learning & Skills Apprentice, Luke Reynolds, has been awarded Aycliffe Business Park's Apprentices of the Year, beating competition from large companies such as Gestamp Tallent and Hitachi Rail Europe, to scoop the accolade at the Make Your Mark business awards event, held at the Xcel Centre in Newton Aycliffe.
Luke, originally from Branksome School, joined the Diploma Motor Vehicle Level 2 Programme with Learning & Skills. The course did not include mandatory work experience, but it was introduced to provide an insight into the world of work in the garage environment and to develop transferable skills. An arrangement was made for Luke to work 3 days a week on a voluntary basis at Gregg Little Testing Centre in Newton Aycliffe.
Luke completed the Diploma and was offered employment at Gregg Little Testing. He then joined the Vehicle Maintenance and Repair Level 2 Apprenticeship with Learning & Skills. Luke always received glowing reports from his placement and he completed the Level 2 Apprenticeship. He then enrolled on the Level 3 Apprenticeship and gained 3 Distinctions and 1 Merit in his exams. On completion of the course he was offered a full-time position as Technician and Transport Manager with Gregg Little Testing.
Graham Curry, Apprenticeship Trainer said, "During the three and a half years I have taught Luke he has always worked to the best of his ability both in the classroom and workshop environment and been a pleasure to teach. He deserves this award for all of his hard work with Darlington Borough Council Learning and Skills and Gregg Little Testing Centre." For further information about all Learning & Skills Apprenticeships, please contact Graham Curry on 01325 405601 or email l&[email protected].
Testimonials
"It has been a brilliant 2 years for me – I have gained such valuable skills and knowledge from my workplace that I can now offer to my new employer. Learning in centre has been brilliant; Barbara is always supportive and makes learning interesting. Both Barbara and Ian always had my best interest at heart and went out of their way to help me and offer advice. My line manager has been amazing, couldn't have been better. All of my colleagues were so friendly and overall I have enjoyed every minute and would like to thank everyone".
Caroline Towers, who completed an Apprenticeship and Advanced Apprenticeship in Business Administration while working in Darlington Borough Council's HR team, is now employed as a HR Officer with Hitachi Rail Europe in Newton Aycliffe.
---
"I have thoroughly enjoyed attending Italian courses with Shan. She gives us a good challenge but also has a good sense of humour. Caters at the right pace and she gives good feedback and explanations which help me to grasp the Italian language more easily".
Linda – Italian course
---
"The learning I have had has been fantastic. I think the initial assessment procedure is brilliant. I only started   in April 2015 as an Entry Level 2 and now in November 2015 I am on Level 2. I wouldn't have been able to do this without Glyn whom is a very patient teacher".
Natasha – Functional Skills ICT (Entry Level 2 – Level 2)
---
"My son was choking on a piece of bread, I knew what to do straight away as we had covered choking in my Family Safety Course the week before – I was so pleased I had completed the course I dread to think what would have happened".
Ashley - Family Learning course
---
"I now have the confidence to move on to other courses, I really want to improve my writing I feel okay joining in with a group now".
Intensive Support Learner, Darlington.
---
"Thanks so much. I am so happy that the class is to continue, in view of the cutbacks being announced. I cannot begin to tell you what a difference being able to converse in Italian made to our holiday in Bologna. It was wonderful to be able to speak to, and understand people in shops, restaurants, railway stations for example. My husband was very impressed. Can't wait to learn more".
Pauline - Italian
---
"My skills and knowledge have develop a lot and I have a better understanding of what is involved in Business Admin. Darlington Borough Council was a great place to start my apprenticeship  and I had all the support and help I needed."
Louise Burn - Advanced Apprentice Business Administration
---
"We have used Darlington Borough Council for a few years now and have gained some excellent staff through them."
Kids 1st Durham