Air pollution and air quality
Air quality monitoring
We are responsible for monitoring and safeguarding air quality. We regulate emissions from certain industrial processes and investigate complaints about air pollution.
We currently have a number of diffusion tubes at sites around Darlington which measure nitrogen dioxide levels from road traffic.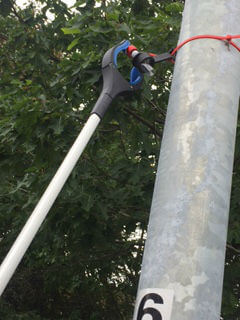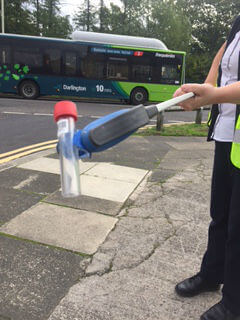 Statutory air quality reviews
Councils are required to produce periodic reviews and assessments of local air quality. This involves a detailed consideration of air pollution levels within the area for comparison with standards and objectives set out in the National Air Quality Strategy. If these objectives are breached then it is necessary for an 'Air Quality Management Area' (AQMA) to be declared and we must prepare an action plan setting out the steps to be taken to meet the standards within the specified timescales.
There are no declared AQMAs in the Darlington area at this time.
National air quality standards
National air quality standards are available on the defra website [external link]
Industrial air pollution control
In addition to carrying out monitoring and reviews of air quality we work with local industry to control emissions. The 'Environment Permitting (England and Wales) Regulations 2010 (as amended)' lists certain industrial processes which need to obtain a 'permit' from a regulatory authority before they can legally operate. These processes can be categorised on the basis of their likely environmental impact:
Part A1 installations in Darlington are regulated by the Environment Agency for emissions to air, land and water. Enquiries relating to Part A1 installations should be directed to the Environment Agency on 08708 506506 or alternatively information is available on the Environmental Management pages of Gov.uk [external link]
Part A2 installations are regulated by the Council for emissions to air, land and water ('LA - IPPC' Local Authority Integrated Pollution Control) - there are no such installations in Darlington at present
Part B installations in Darlington [pdf document] are regulated by the Council for emissions to air only ('LAPPC' Local Air Pollution Prevention and Control)
Enquiries in relation to applications for Part A2 or Part B applications and requests to access the public register should be directed to environmentalhealth@darlington.gov.uk. Companies wishing to apply for a new Part B installation or who wish to amend their existing Part B Permits can also download the relevant forms:
For information on Part B Processes and fees payable visit Defra's website [external website]
Smoke control areas
Smoke control areas are intended to reduce pollution and smog caused mainly by burning non-smokeless fuels on domestic fires. The main implications of living in a smoke control area for householders is that coal, oil and wood cannot be used unless they are burnt on an 'exempted fireplace'. The majority of the town falls within one of 32 declared smoke control areas but the villages are not currently covered. To find out if you live in a smoke control area contact Environmental Health on 01325 405111 or email us at environmentalhealth@darlington.gov.uk
For information on authorised fuels and exempted appliances see The Smoke Control Areas website [external link]
Garden bonfires
Garden bonfires are not illegal, even in a smoke control area, and there is no legal requirement about the time they may be lit.
However, if a bonfire causes a nuisance to neighbours then legal action can be taken.  If you do plan to have a garden bonfire you must ensure that only dry garden waste is burnt and no household waste is disposed of. The burning of household waste is an offence under S33(1)(c) of the Environmental Protection Act 1990 and shall not be used as a method of disposal. If evidence is gathered that an offence has been committed legal action may be taken. To report a bonfire that is causing a nuisance contact Environmental Health on 01325 405111 or email us at environmentalhealth@darlington.gov.uk
If you do decide to burn garden waste please ensure that you only burn dry garden waste and do not have a bonfire when:
People are sitting in their gardens
People are cleaning or decorating
Washing is drying on the line
Weather is hot and people have their windows open