Community Art Project news 2018
November 2018
The Community Art Project calendars for 2019 went on sale at £5.00 each. A3 sized, printed in full colour with three different versions featuring work by all the artists currently attending the CAP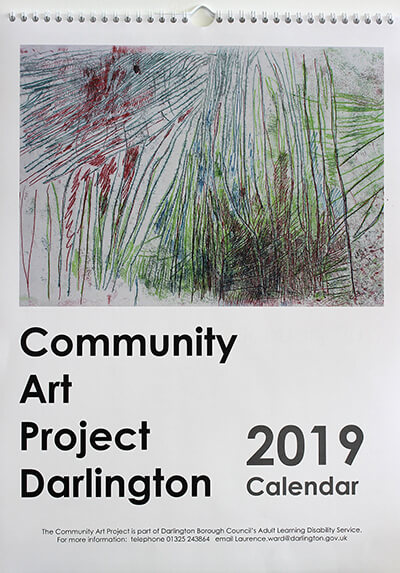 October 2018
Manchester Art Fair
Two artists from the CAP had their artwork displayed at the Manchester Art Fair which took place from 12th October – 14th October. Matthew Beadon and Brian Jobling were selected by the Outside In Gallery, one of over 120 galleries taking part in the most prestigious art fair in the North.
Brian was able to travel on the train to Manchester with Laurence from the CAP to see the Art Fair and meet the Outside In staff, Hannah and Cornelia who were running the gallery space.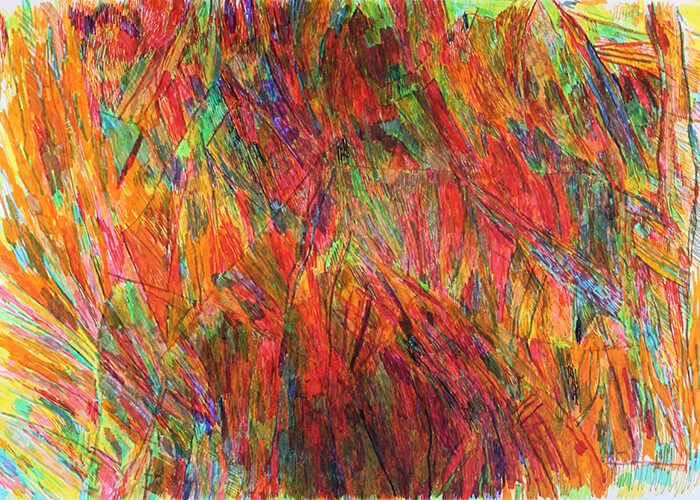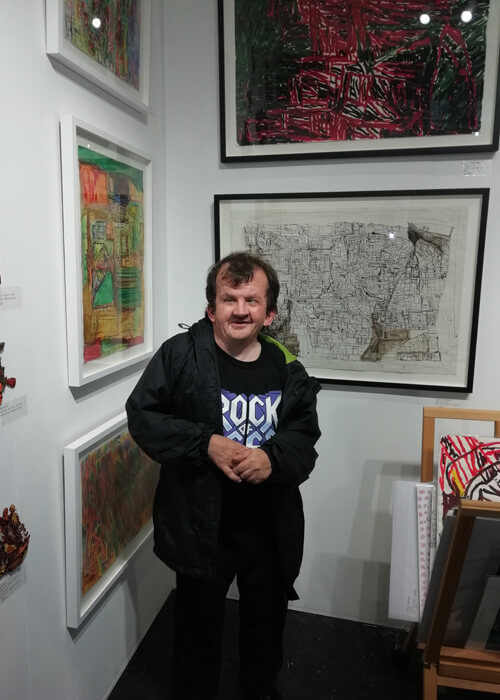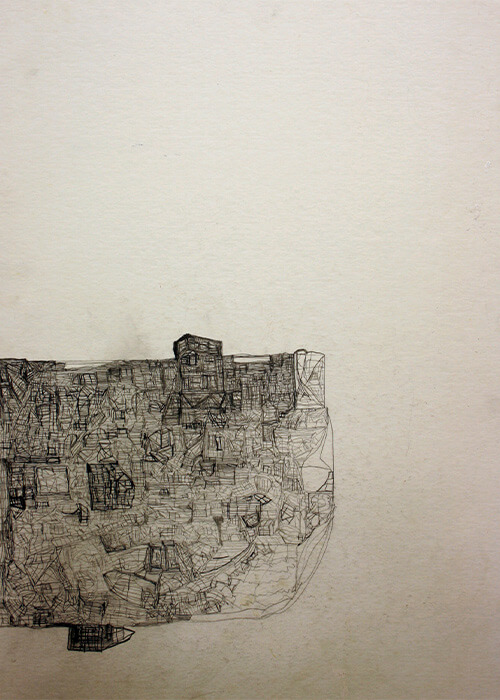 Darlington Crown Street Library Gallery Exhibition
The Community Art Project held its own exhibition including work by all thirty four of our current attenders at the gallery at Crown Street Library in Darlington from the 18th October until the 6th December.
Here are some comments from the first few weeks of the exhibition:
Well done to all concerned and looking forward to the next exhibition.
Beautiful - I would buy them all but I am downsizing.
I found this exhibition most enjoyable - thought provoking and intriguing. Thank you!
July 2018
Great Exhibition of the North
In July 2018 the Community Art Project organised day trips to see various exhibitions that formed part of the Great Exhibition of the North in Newcastle and Gateshead. We visited Baltic, the Hatton Gallery, the Great North Museum and the Shipley Art Gallery. Some of the highlights included artworks by Damien Hirst, George Stubbs, Cornelia Parker, Grayson Perry, Fred Uhlman, Michael Dean, Sirkka-Liisa Konttinen, Ryan Gander, Aardman animations and the Beatles!
A total of twenty two service users enjoyed the trips on three separate days
March 2018
Darlington Crown Street Library Gallery Exhibition
In March 2018 we held our first of two exhibitions at the gallery at Crown Street Library in Darlington featuring two dimensional and three dimensional work in a variety of media including drawings, paintings, prints and digital artworks, representing each of the thirty two artists currently attending the CAP. The exhibition was a great success with a total of nine sales and some very positive feedback.
Below are some of the comments left by visiting members of the public;
Brilliant! I could buy all the pictures, professional standard
Interesting pictures showing good ideas and creative styles
Brilliant exhibition, some very interesting pieces – varied used of equipment making exciting and innovative works of art
Great exhibition thanks for putting it up
Creativity is such a thing full of promise. But for those who are scared of getting things wrong, then creativity is fettered and then most or everything they do looks the same!  In this exhibition I saw the re-emergence of the Picassos and Cy-Twomblys of this world – not scared of the marks they put upon the paper – unfettered they cannot fail
Clever and inspirational
Great to see this work framed!  Well done everyone
Greenfield Open 2018
Nine artists from the CAP had artworks included in Greenfield Art Centre's 2018 Open exhibition