Bar Bistro
Located on the first floor of the Dolphin Centre, our continental bar bistro and café area offers the perfect venue to unwind after your workout, to rest weary legs during your shopping trip or just to enjoy a nice atmosphere for a drink and a bite to eat.
Do Your Bit
We are asking customers to:
Wash your hands regularly
Use the sanitiser provided
If using equipment please clean before and after use
We recommend customers wear face masks when moving around the building
We regularly clean and sanitise our facilities throughout the day and end each day with a deep clean.
There will be cleaning stations available for customers to use in each business area.
NHS track and trace posters available around the building for you to check in should you wish.
Have a safe and enjoyable visit.
Welcome back to the Dolphin Centre Bistro 
KEY INFORMATION for Monday 19th July
Customers do not need to wait to be seated simply choose your table. Tables have a sign to confirm that it has been cleaned.
When you are ready simply approach the bar to place your order and pay.
We encourage card payment where possible.
Our Menus
Afternoon Tea
Available between 2-5pm, pre-bookings only. £9.95 per person (including hot drinks and refills)
Gift Vouchers available for purchase from the Dolphin Centre Bistro or 16 Horsemarket.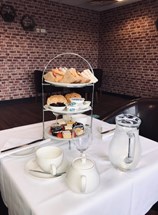 Takeaway Afternoon Tea
£16.00 for 2 people (drinks not included). Pre-order yours today on 01325 406979.