Connecting the Tees Valley
This is the framework of the Tees Valley Combined Authority's Strategic Transport Plan, which is due for publication during summer 2017. The Framework sets out the region's transport priorities up to 2026 and offers the opportunity for stakeholders, interest groups and the public to help inform the development of the Strategic Transport Plan.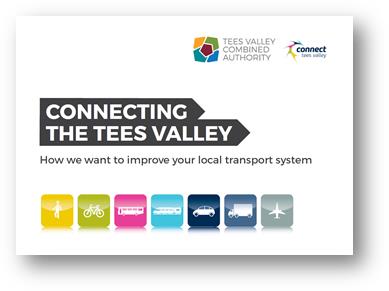 Tees Valley Combined Authority, a new body created in April 2016 that covers Darlington, Hartlepool, Middlesbrough, Redcar & Cleveland and Stockton-on-Tees, is asking people across the region for their views on its transport plan. As outlined within the Strategic Economic Plan, over the next 10 years the Combined Authority wants to create 25,000 new jobs and build 22,000 new homes and the Strategic Transport Plan is vital to support this aim.
The Combined Authority's transport vision for the Tees Valley is 'to provide a high quality, quick, affordable, reliable and safe transport network for people and freight to move within, to and from the Tees Valley'.
To do this we aim to:
Improve our local railways by having more, faster and better trains and stations, so that journeys by rail are quicker and more comfortable;
Maintain and improve our roads so that they are safe and less congested;
Provide better bus services that are punctual and reliable, with improved passenger information and facilities, which provide access to where people want to go, when they want to go;
Provide safe walking and cycling routes to make it easier to travel on foot and by bike; and
Make it easier and safer to transport freight by road, rail, sea and air.
Further details on the Strategic Transport Plan and the framework document can be found at the Tees Valley Combined Authority website [external link].
We welcome feedback from all interested parties, either via reply to this email or by post to:
Connect2026
Tees Valley Combined Authority
Cavendish House
Teesdale Business Park
Stockton-on-Tees
TS17 6QY
The deadline for comments on the framework is Tuesday 31 January 2017. There will be further opportunities to comment on a full draft of the Strategic Transport Plan during spring 2017.