COVID 19 – Apprenticeship Update
During the current COVID 19 pandemic, Learning & Skills is continuing to provide high quality apprenticeship training to businesses and residents of Darlington and the surrounding area. We have adapted the way that we are currently working and are supporting apprentices and employers remotely, with great success.
Employers
We are still recruiting apprentices for employers who are looking to add an apprentice to their team. We have been reactive to the current situation and so can support employers throughout this process. Apprenticeships are still a very successful way of taking on a new member of staff, teaching them your way of working, whilst not affecting your bottom line. There are also grants available to support employers to take on an apprentice.
Apprentices
Apprentices can work towards the theory side of their apprenticeship using the e-portfolio system that is in place. Using this platform, our trainers are able to provide support, feedback and set new targets, allowing apprentices to continue their learning and progress through their apprenticeship training. Trainers are also hosting a range of lessons and workshops using online platforms such as Microsoft Teams and Google Classroom. Apprentices have continued to have great success completing their end point assessments during the pandemic.
Applicants
Learning & Skills is very interested in hearing from people who are interested in starting an apprenticeship with us. We are still open for business. We have adapted our ways of working to reflect the current climate, ensuring that we are supporting applicants throughout the whole process whilst providing high quality information, advice and guidance. Our interview process has been adapted to adhere to social distancing measures. Our  preferred method is to use video conferencing software, such as Google Classroom, to interview applicants to ensure that they are suitable for an apprenticeship. It also gives us the opportunity to explain the next steps in the process and answer any questions. If video conferencing is not available, or appropriate, then telephone interviews will be arranged.
If you require any more information please contact Lauren Mallaby on 07960 009540 or email [email protected] 
Apprenticeships
Apprenticeships last a minimum of 12 months and allow you to gain industry recognised qualifications whilst being employed. You will be paid at least the Apprenticeship National Minimum Wage (currently £4.15 per hour) as you learn new skills and knowledge through high quality on and off the job training. The industry areas we currently offer apprenticeships in are:
Why choose an Apprenticeship?
Earn while you learn
Work Experience - Enabling you to put theory into practice
Support - Experienced tutors available to provide personalised support allowing you to succeed
Kick start in your career - Giving you experience to move up in your chosen sector
Develop and learn new skills - Develop your confidence and enable you to work with a range of different people.
Apprenticeships are available to existing and newly recruited employees and can be aged 16-24 (over 25 apprenticeships available in priority skill areas).
Click here to view our live apprenticeship vacancies. If you would like to apply for an apprenticeship please follow the instructions on the vacancies page. Alternatively you are able to complete one of the following application forms.
For further information on Apprenticeships, vacancies, reforms or employer information please call 01325 405601 or email l&[email protected]
"My skills have massively developed since i started with Darlington Borough Council Learning & Skills. I have gained a wide range of new skills not only within the business support aspect, but also with all the training I have received, in aspects such as safeguarding, health and safety and first aid. I have become more confident on the telephone and dealing with tricky customers. The advice I got from Barbara helped both in a workplace environment and in general day to day life. I have grown so much as a person, especially surrounding social skills. I cannot thank the L&S team enough for what they have done for me personally, they will never truly know how much it means to me." Business & Administration learner
"I feel more confident diagnosing and fixing faults. They have developed and improved a lot. I have used what I have learned and put in to practice in my job. Yes, I strongly say that my knowledge and personal skills have improved." Motor Vehicle learner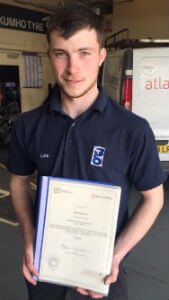 Luke Reynolds, who completed his Advanced Apprenticeship in Motor Vehicle, has been awarded Aycliffe Business Park's Apprentices of the Year, beating competition from large companies such as Gestamp Tallent and Hitachi Rail Europe, to scoop the accolade at the Make Your Mark business awards event, held at the Xcel Centre in Newton Aycliffe.
Luke, originally from Branksome School, joined the Diploma Motor Vehicle Level 2 Programme with Learning & Skills in September 2012. The course did not include mandatory work experience, but it was introduced to provide an insight into the world of work in the garage environment and to develop transferable skills. After successfully completing this course, Luke embarked on an Apprenticeship and Advanced Apprenticeship with Gregg Little Testing Centre. On completion of these, Luke gained a full-time position as Technician and Transport Manager with Gregg Little Testing Centre.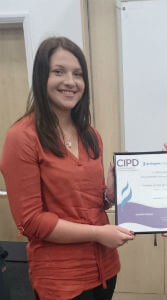 Caroline Towers, who completed an Apprenticeship and Advanced Apprenticeship in Business Administration while working in Darlington Borough Council's HR team, is now employed as a HR Officer with Hitachi Rail Europe in Newton Aycliffe.
"It has been a brilliant 2 years for me – I have gained such valuable skills and knowledge from my workplace that I can now offer to my new employer. Learning in centre has been brilliant; Barbara is always supportive and makes learning interesting. Both Barbara and Ian always had my best interest at heart and went out of their way to help me and offer advice. My line manager has been amazing, couldn't have been better. All of my colleagues were so friendly and overall I have enjoyed every minute and would like to thank everyone".