Dolphin Centre History
November 2nd 2017 - Dolphin Centre turns 35 years old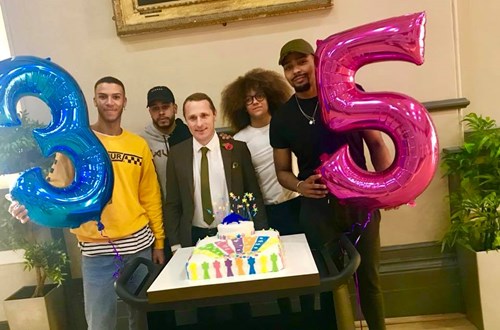 Stars from Diversity help celebrate the Dolphin Centre's 35th Birthday.
August 2015 - Pool Project Refurbishment
From the end of August 2015 to early May 2016 we carried out a pool plant refurbishment to the whole of our pool complex.  This part of the project involved installing new lighting and tiles, improvement to the ventilation in this area and the replacement of the waterproof membrane. We also refreshed the Changing Village and family changing facilities and installed a new interactive Toddler Pool.  As a result customers will now experience greater comfort levels in a brighter and more inviting pool environment.
Plant Room 1 below the swimming pool – The old boilers have been removed and new boilers installed, which will improve heating and efficiencies for the whole centre. The New UV filtration system installed for the swimming pool will considerably improve energy efficiency. New chemical dosing systems have been installed offering increased efficiency of water treatment.
Plant Room 2 above the pool hall - The air handling units for the pool hall, gym, changing village and sports hall have been removed ready for the new units to be installed.  The units will provide improved air handling in these areas, which in turn will improve comfort levels for customers.
The Changing Village has been completely dismantled and work is now under way to replace the changing village floor drainage and tiles.
November 2nd 2012 - Dolphin Centre turns 30 years old
November 2nd 2012. An historical occasion and no doubt many people who visited as children now visit as young adults. Hopefully they will continue to use the facilities in the future and will bring their children and grandchildren to do the same. The Dolphin Centre has made an enormous contribution to the fitness and enjoyment of the people of Darlington. Long may it continue to do so. To view the collection of photos please view our Flick album [external link].
December 2007 - Refurbishment Project
The award winning multi-million pound refurbishment of Darlington's flagship leisure centre fully reopened on Saturday 16 December 2007.
The project represented the most significant revamp of the Centre since legendary athlete Sir Roger Bannister officially opened it in 1983, although the Centre did open in November 1982.  
Darlington Memories Article [pdf document]