Our 16 parks and 10 nature reserves stretch right across the town.
There's the Victorian splendour of South Park - the oldest park in the region. West Park is the town's newest green space, the site of an old chemical works with a bike track and play area.
Contact our park rangers:
Darlington's rethinking parks - Rethinking parks is a £1m fund to help develop new approaches to sustaining and making the most of UK public parks. Darlington has been selected to take part in this project, the only place in the North-East.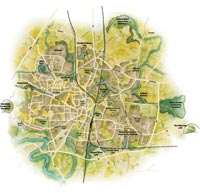 Darlington green spaces map [pdf document, 2mb]
Commercial Exercise in Darlington Parks and Green Spaces 
To all Boot Camps, Personal Trainers and other exercising organizations who would like to use the Parks and Greenspaces for commercial exercise, you require a permit to hold sessions on Council Land.
This is to ensure that Covid Guidelines and Health & Safety protocols are followed.
Please respect the Parks and Greenspaces by not attaching exercise equipment such as resistant bands and ropes to the historical park features, benches and trees in these spaces.
A yearly permit is £270 but this can be tailored to meet your requirements.  The documents we require to process a permit are: risk assessments, first aid certificate and public liability insurance.
For more information on obtaining a permit please contact the Park Rangers: [email protected]
Beech Wood
A small wood and green space at Barmpton Lane.
Brankin Moor local nature reserve
A small woodland rich with orchids and woodland plants.
Brinkburn local nature reserve
A small site dominated by a pond and wet woodland. It is close to Drinkfield Marsh, Brinkburn and West Park.
Broken Scar
Off Coniscliffe Road, this park is right next to the River Tees.
Cocker Beck
Visitors can enjoy a pleasant bike ride along the winding cycleway, enjoy the timber play area or look for butterflies in the wildflower meadows.
The Denes
The Denes is a 1.5km linear park that winds its way gently alongside Cocker Beck right into the heart of the town. It is made up of six Denes and is popular with both local people and wildlife.
It has two play areas and tennis courts as well as a number of chainsaw carvings.
More information about the Denes
Drinkfield Marsh local nature reserve
The reserve links to a series of weirs leading to a lake which is home to many birds in winter.
Eastbourne Park
This large green space is in the heart of the south east section of the town. 
For more information about Friends of Eastbourne Park view the Eastbourne Park Community Hub Facebook page [external link].
Geneva Wood local nature reserve
A small woodland site where you can explore and look for deer.
Green Park
A green open space with a play area, near Harewood Terrace.
Maidendale fishing and local nature reserve
A very popular fishing resource which is home to important rare species including great crested newts and the emperor dragon fly. Why not cycle along the Greenway?
North Lodge Park
An Edwardian park near to the centre of town. A place of peace and solitude. Anyone with an interest in local history will enjoy the mix of trees from the Pease family garden, the North Lodge Villa built in 1832 or the bandstand.
Visit the North Lodge Park Darlington Community Facebook page [external link]. 
North Park
A large green space away from the centre of town which is ideal for a brisk walk or early morning stroll. It has a bandstand, multi-use games area, bike track and picnic tables.
Redhall local nature reserve
This nature reserve has a pond with fishing pegs and green space.
Riverside Park
The Feethams area of the town centre has seen significant improvements in the last few years. The Riverside Park runs along the west bank of the River Skerne directly behind the Town Hall and Bishopsgate House. The project includes walkways, tree planting, seated areas and a viewing platform.
Rockwell local nature reserve
Rockwell connects the heart of the town with the countryside along a restored section of the River Skerne and provides a vital and relaxing place for wildlife.
Skerningham Community Woodland
Many people come to this large nature reserve to go on walks. It is situated between Harrowgate Hill and Barmpton. You can park at the top of Glebe Road to reach Skerningham but there is a one mile walk to the woods. There is a pond and amphitheatre to find.
South Burdon Community Woodland
This woodland off the A66 bypass is a 200 acre site that runs either side of the original Stockton and Darlington railway line. This site has a lake, ponds, orchard and the Chroma sculpture designed by the artist Vicky Holborough as part of the Tees Valley Arts Green TV project.
South Park
Darlington's premier park has award-winning flower beds, a lake, bandstand and fountains. South Park is an excellent example of a Victorian park. It has play areas, a skate park and aviaries.
Springfield Park
This park is located on Green Lane and has a play area and football field.
Tommy Crooks Park
This park on Yarm Road has a play area and football field.
West Park local nature reserve
West Park is a 12 hectare local nature reserve which combines woodland, wildflower meadows and wetlands with poetry and sculptures. It also has a large natural play area, four bike tracks, an orienteering course and an orchard. This reserve offers something for all the family.
A family friendly park with huge sculptures and bridges -  a chance to let off steam, with gently climbing slopes to get great views of the surrounding countryside.
Friends of West Park Facebook page [external link]
For more information about Friends of West Park, call 01325 406719 or 405796.
The Whinnies local nature reserve
The Whinnies is home to a variety of unusual orchids and butterflies.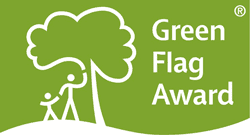 Green Flag Award
The Green Flag Award scheme recognises and rewards the best green spaces in the country. Parks are judged on eight criteria including cleanliness, sustainability and conservation. 

As of 2023, Darlington has two Green Flags - South Park (which has had a flag since 2006), and West Park (which has had a flag since 2015).