Ingenium Parc
What is Ingenium Parc?
Ingenium Parc [external link] will be the premier location for industrial development in Darlington and one of the top five priority Economic Growth projects for the borough. It has been identified as a key long term employment site, as identified in:
Darlington's Employment Land review (2009)
Local Development Framework Core Strategy (2011)
Interim planning position statement (2016)
Where is it?
Covering an area of 40 hectares off Salters Lane, near Yarm Road, the proposed site is close to a number of established advanced manufacturing and engineering businesses, such as Cummins Engines and Cleveland Bridge, with Grade A office accommodation at Morton Palms Business Park [external link] close by. With excellent transport links, the site is ideally placed to support the manufacturing/engineering and logistics/distribution sectors.
Click on the Ingenium Parc tab in options below the map to see where the site is located 
What's the plan?
A comprehensive masterplan is in development which will guide the future development of the site through outlining the various opportunities and constraints that the site presents, alongside the ambitions of the Council to create an attractive environment and a great place to do business.
Spread across three phases, the Ingenium Parc masterplan unlocks its development potential. The first phase will be around eleven hectares, creating up to 1,000 jobs by 2021.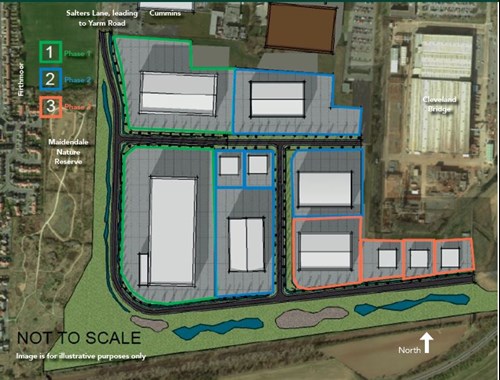 The Council recognises the ecological biodiversity of the site and adjacent nature reserve, and has worked closely with Natural England to mitigate any loss and enhances biodiversity and natural habitats.
Proposed work as part of phase 1 includes:
Yarm Road roundabout improvements
Salters Lane South upgrade
installation of infrastructure and services
Works are due to commence early next year with completion by the end of 2019. 
First development plots will be available from 2019/20 and businesses/investors interested in the site are asked to get in touch with the Council's Business Investment Team [external link].
Have your say
Any comments or or queries can be emailed to economic.projects@darlington.gov.uk or posted to Economic Projects Team, Town Hall, Darlington, DL1 5QT. 

Two consultation events, one for residents and one for businesses, are being held:
Residents - drop in event at Firthmoor Community Centre, 50-53 Burnside Road, Darlington DL1 4SU on Wednesday 13 September 4-7pm. Plans will be on show at the event and Council representatives will be on hand to answer any questions.
Businesses - drop in event at Morrisons Trust Conference & Training Centre, Morton Park, Yarm Road, DL1 4PJ on Thursday 14 September, 4-7pm. Plans will be on show at the event and Council representatives will be on hand to answer any questions.
A leaflet [pdf document] outlining the proposals has also been produced as part of the consultation.
All comments must be received by 26 September 2017. Finalised plans will be put to Cabinet for consideration in October and we want to ensure feedback is incorporated and reflected in the final masterplan where possible.