Darlington location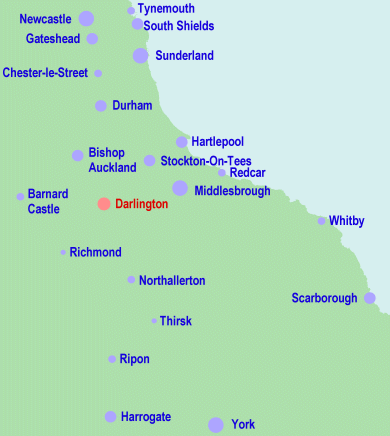 The town of Darlington is situated in the North East of England, approximately 15 miles west of Middlesbrough and 20 miles south of Durham City.
Darlington lies next to the A1(M), which connects London, Leeds, Newcastle-Upon-Tyne and Edinburgh. It is also on a mainline rail route between London and Edinburgh and has a nearby airport. 
Travel connections
Motorways and Trunk Roads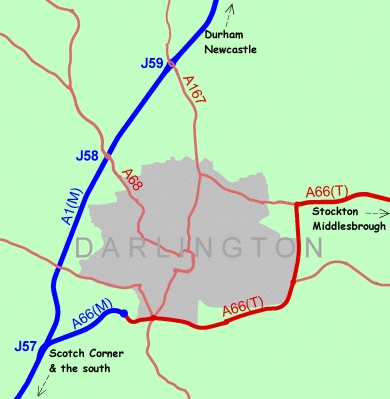 The town of Darlington is situated next to the A1(M), off junctions 57, 58 and 59. This road runs north-south between London and Edinburgh.
Darlington is also on the east-west A66 route between Tees Valley and The Lake District (through Scotch Corner).
Main Roads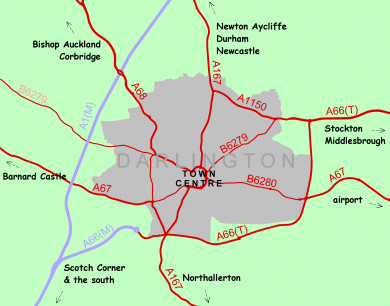 Radial roads running from Darlington town centre include: A167 (north) to Newton Aycliffe and Durham; B6269 (north-east) joining the A66 to Stockton and Middlesbrough; A67 (east) to "Durham Tees Valley" Airport; A167 (south) to Northallerton; A67 (west) to Barnard Castle; A68 (north-west) to Bishop Auckland and Corbridge.
Rail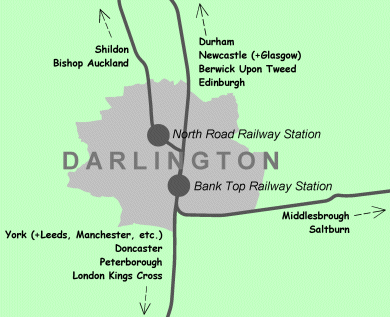 Darlington is a major station on the London-Edinburgh route, with frequent services to York, Durham and Newcastle. There are also some direct connections to Leeds, Manchester, Birmingham, Bristol and Glasgow.
Darlington is also on a branch line connecting Bishop Auckland and Teesside.
The journey time between Darlington and London Kings Cross can be as little as under 2½ hours.
The main railway station, Bank Top [external link], is only a few minutes walk from the town centre.
Air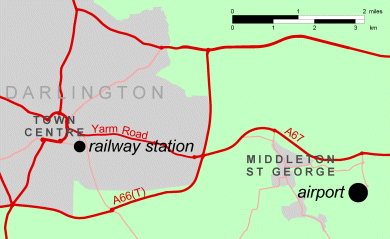 Teesside International Airport [external link] is approximately 9km (6 miles) from Darlington town centre.