Don't Suffer in Silence – report anti-social behaviour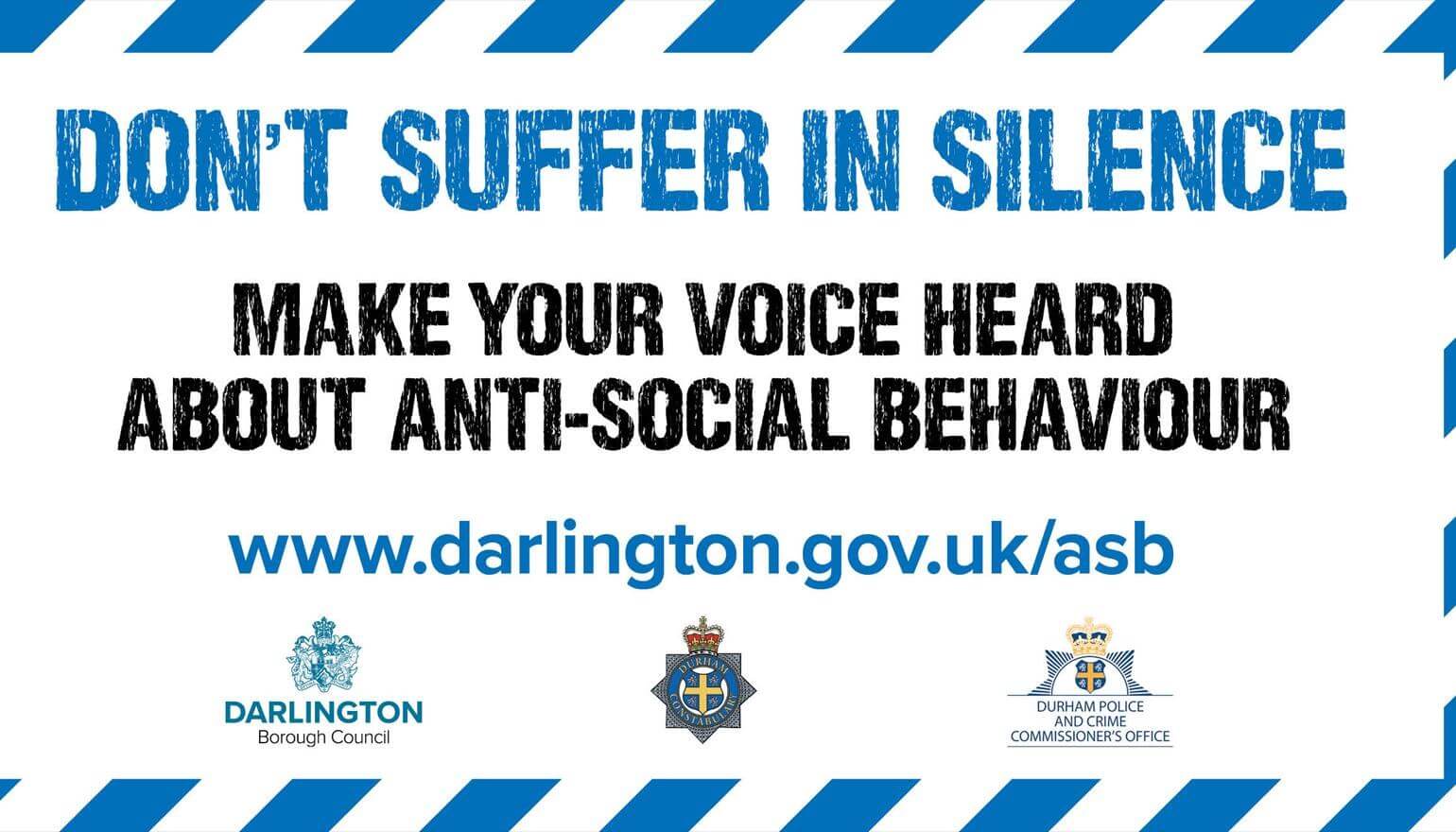 15 November 2022
Make your voice heard about anti-social behaviour – don't suffer in silence.
That's the message of a new joint campaign by Darlington Borough Council, Durham Police and the Durham Police and Crime Commissioner to encourage people experiencing anti-social behaviour to report incidents every time they happen to make sure resources can be targeted to tackle hotspots.
Anti-social behaviour is persistent behaviour that causes harassment, alarm or distress to individuals or a community. It comes in a variety of forms, from the noise and disruption caused by off-road bikes or rowdy behaviour in the streets, to repeated fly-tipping or inconsiderate behaviour to neighbours.
The Don't Suffer in Silence campaign asks people to report all instances of anti-social behaviour, every time they occur.
Although a report may not result in an officer turning up immediately, every contact about ASB is logged and mapped by officers, which allows resources – which can be officers or technology – to be deployed where they are needed most and tackle issues.
The campaign will also help people choose the right route to report different types of anti-social behaviour, as some incidents will fall to the council's civic enforcement team to deal with, rather than the police.
Councillor Mike Renton, Darlington Borough Council cabinet member for stronger communities, said: "Anti-social behaviour blights people's lives and can leave them feeling vulnerable in their own homes.
"This campaign aims to help people feel empowered to report the behaviour causing them a problem – anonymously if they wish – which will in turn give council enforcement officers and police officers the information they need to respond and clamp down on negative behaviour.
"Reporting ASB may not result in an officer knocking on your door but it's a vitally important to help the teams build up a picture of what's going on in the town and where to target patrols and other action."
Inspector Dean Haythornthwaite, from Darlington Police, said: "Everyone has a right to feel safe in their own home – antisocial behaviour is not something that people should have to put up with.
"To tackle it efficiently and effectively, we need the knowledge and support of everyone living in our communities. If you are experiencing antisocial behaviour in your area, then please report it. The more we know about antisocial behaviour, the more ourselves and our partners can do to help make your community safer."
Joy Allen, Durham Police and Crime Commissioner, said: "
"Reporting incidents of anti-social behaviour is vital in ensuring we know the best ways to improve our targeted response.
"Anti-social behaviour was highlighted as one of the main priorities for people living across County Durham and Darlington, therefore has a major focus in my Police and Crime Plan. However, to know where our efforts are best placed we need to understand exactly what is going on across our area, which is only possible with proper reporting.
"We are working to improve our signposting for reporting to ensure that the public know who is best placed to help with any issue related to anti-social behaviour, in the hope that this will empower people to feel safer in their communities and will ensure they get a timely and efficient response."
For full information on the different types of anti-social behaviour, information on whether to contact the council or the police, and to make an online report of an incident, visit www.darlington.gov.uk/asb