Information, Advice and Guidance (IAG)
We pride ourselves on providing bespoke information, advice and guidance to all our individual learners.
We try to give all learners the opportunity to develop an awareness of career pathways and make informed choices based on their personal aspirations and abilities. All Learning & Skills learners are entitled to careers information, advice and guidance which is: 
Independent and impartial 
Accessible
Structured and forms part of a learner's overall education
 Post-16 options 
Further education
Training and Apprenticeships 
Post-19 options:
Applying for higher education
Researching possible courses and institutions
Access to prospectuses from universities 
Information and sign-posting on student financing higher education and preparing for student life
Job Centre Plus / employment agencies 
Apprenticeships:
Help with interviews and the Apprenticeship programme
Work related learning and careers
Discussion with the Mentor and Career Guidance Advisor in relation to Apprenticeship suitability and what is expected as an apprentice
---
Matrix Standard
Learning & Skills is accredited to the Matrix standard. This standard is a unique quality standard for the assessment and measurement of the advice and support services we provide, which ultimately supports learners in their choice of career, learning, work and life goals. Our current accreditation lasts until 15 June 2023.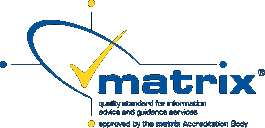 We offer impartial advice and guidance to all. We help with: 
Advice on courses delivered by us and other providers 
Transition support from schools 
Job search and interview skills
CV preparation
Advice on improving yours skills, qualifications and employability
Courses to improve your career prospects 
Careers advice
Progression from your current course
A list of websites you may find useful [pdf document]