If you would like to apply for an apprenticeship, please complete one of the following application forms:
---
Apprenticeships
Apprenticeships last a minimum of 12 months and allow you to gain industry recognised qualifications whilst being employed. You will be paid at least the Apprenticeship National Minimum Wage (currently £3.50 per hour) as you learn new skills and knowledge through high quality on and off the job training. The industry areas we currently offer apprenticeships in are:
Why choose an Apprenticeship?
Earn while you learn
Work Experience - Enabling you to put theory into practice
Support - Experienced tutors available to provide personalised support allowing you to succeed
Kick start in your career - Giving you experience to progress in your chosen sector
Develop and learn new skills - Develop your confidence and enable you to work with a range of different people.
Apprenticeships are available to existing and newly recruited employees and can be aged 16-24 (over 25 apprenticeships available in priority skill areas)
Click on here if you would like further information about other courses for young people.
---
National Apprenticeship Week 2017
Learning & Skills Service has celebrated National Apprenticeship Week (6th - 10th March) in many ways, including taking part in an Apprenticeship day challenge at Summerhill Outdoor Pursuits Centre. We had a really good day working as a team and trying new activities. Middlesbrough won the local authority event. 
Within our Business Admin / Customer Service department the Apprenticeship learners have taken on the theme "Ladder to Success" and completed a step challenge to help promote health and wellbeing. Each learner received a pedometer from our colleagues in Local Motion and in total have completed a large number of steps - so far, walking from Darlington to Venice or climbing Mount Everest 39 times! Apprentices have also competed with each other. Well done to Rhys Smith who won with a total of 170,475 steps. Well done also to the 2 runners up Claire Heffey and Louise Wilson. 
Mayor Brian Jones quoted: "As mayor, I'm delighted to support National Apprenticeship Week here in Darlington. Apprenticeships can provide a route into a great career and can have a positive impression on apprentices and employers. My best wishes to those taking up and those providing apprenticeships"
---
Testimonials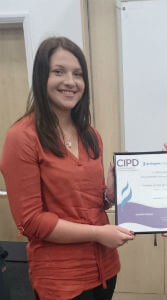 Caroline Towers, who completed an Apprenticeship and Advanced Apprenticeship in Business Administration while working in Darlington Borough Council's HR team, is now employed as a HR Officer with Hitachi Rail Europe in Newton Aycliffe.
"It has been a brilliant 2 years for me – I have gained such valuable skills and knowledge from my workplace that I can now offer to my new employer. Learning in centre has been brilliant; Barbara is always supportive and makes learning interesting. Both Barbara and Ian always had my best interest at heart and went out of their way to help me and offer advice. My line manager has been amazing, couldn't have been better. All of my colleagues were so friendly and overall I have enjoyed every minute and would like to thank everyone".
---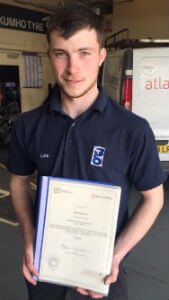 Luke Reynolds, who completed his Advanced Apprenticeship in Motor Vehicle, has been awarded Aycliffe Business Park's Apprentices of the Year, beating competition from large companies such as Gestamp Tallent and Hitachi Rail Europe, to scoop the accolade at the Make Your Mark business awards event, held at the Xcel Centre in Newton Aycliffe.
Luke, originally from Branksome School, joined the Diploma Motor Vehicle Level 2 Programme with Learning & Skills in September 2012. The course did not include mandatory work experience, but it was introduced to provide an insight into the world of work in the garage environment and to develop transferable skills. After successfully completing this course, Luke embarked on an Apprenticeship and Advanced Apprenticeship with Gregg Little Testing Centre. On completion of these, Luke gained a full-time position as Technician and Transport Manager with Gregg Little Testing Centre.
For further information call 01325 405601 or email l&s@darlington.gov.uk