Book of remembrance
Books of remembrance provide a beautiful and lasting memorial to the memory of a loved one.
The books are handmade and lettered by highly skilled craftsmen and are displayed in protective glass cabinets. The remembrance room is situated to the front of the Crematorium Office building, as signposted.
Each volume contains entries for four months and a page is provided for each day of the year. Memorial entries may be viewed on each anniversary or by appointment at other times should the books be available.
Books have also been digitally photographed and can be viewed at any time on the online book of remembrance [external link].
Download our Book Of Remembrance And Memorial Cards leaflet [pdf document]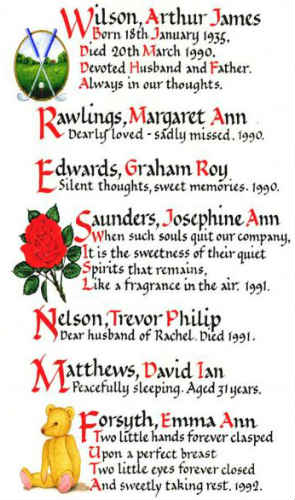 Entries of between two and eight lines are permitted, with the first line bearing the name. In addition to floral emblems, heraldic illuminations such as coats of arms, crests and regimental badges can form part of an entry of at least five lines.
Examples are available to view at the Council Contact Centre. Staff are available to help you compose suitable wording for the inscription or to select appropriate illustrations.
To ensure an entry is produced in time for display, the completed application must be received at the Crematorium not later than six months before the anniversary.
The Books are on display at the remembrance room at Darlington crematorium should you wish to view the original entry on the anniversary date. The room is open daily from 9am - 5pm.
Darlington Crematorium
West Cemetery Office
Carmel Road North
Darlington
DL3 8RY
Miniature books and memorial cards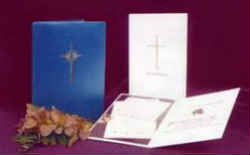 Miniature Books and Memorial Cards are available as a personal keepsake and are very popular with those who cannot easily visit the Crematorium to see the original entry. 
The Memorial cards are gilt edged and contain a colour photograph of the original Books of Remembrance with each card inscribed individually with the verse of your choice. 
The Miniature Books are hand bound with a blue leather cover and gold blocked with a cross. Each page is inscribed by hand and can be returned when required for additional entries to be made.