New council housing
Welcome to Housing Services new council housing page. Here you can find information on the current sites we are building affordable homes on.
We are committed to building quality new homes which are award-winning, creating sustainable communities across Darlington. All of our homes are built by our in-house team at Darlington Borough Council and are built to high environmental standards.
Housing Services wants to progress in building new and affordable homes to help ease the housing crisis and help regenerate brownfield sites to create sustainable communities for people to live.
Neasham Road - Phase 1
Work is well underway on our most recent site at Neasham Road. This scheme will see the construction of 150 quality homes with a rent-to-buy option offering a first step to affordable home ownership for residents.
The site will see 64 two-bedroom apartments, 24 two-bedroom house, 43 three-bedroom houses and 19 four-bedroom houses.
Phase 1 is being prepared and is estimated for a completion date of January 2024. Please visit our Darlington Home Search page[external link] to register on our allocations system ready for phase 1 which will be advertised later this year.
Neasham Road - Phase 2
This phase is estimated for completion later in 2024. Keep your eyes peeled here for updated drone pictures of the progress and look out on our Housing Facebook page[external link] for updates on when houses will be ready to apply for.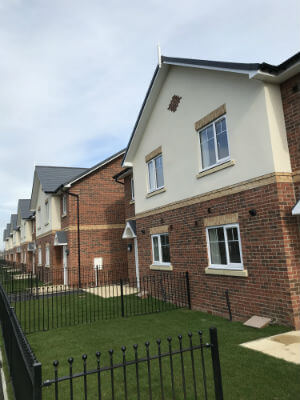 Construction has currently been halted on this site due to unforeseen circumstances.
Sherborne Close - Phase 2
Following on from the success of our new build phase 1 at Sherborne Close, work has started to phase 2 to provide 12 new, affordable council homes.
Sherborne Close is located in the Branksome area of Darlington. Branksome is close to Cockerton Village, Mowden and West Park, all of which host supermarkets, shops, restaurants and a local library. It is a vibrant place to live and boasts a good number of family houses, with local primary and secondary schools being within close vicinity. 
Being located on the North West of the town there are many local walking, cycling and running routes into the countryside.
Excellent transport links are close by including A1M, East coast mainline and Durham Tees Valley Airport. 
We are currently building: 
4 x 3 bedroom houses
8 x 2 bedroom apartments
More information on future developments will be available soon
We have a wide range of good quality properties throughout the borough.
Google Map showing

showing the locations of new council housing
How to contact us
There are several ways you can contact us:
Tenants can report emergency repairs to 01325 405333 24/7 365 days a year.
What if I am not satisfied with the response?
We hope that we can work together with our residents and listen to their voices and resolve any problems, but if you are unhappy with the response from the Housing team we have a complaints procedure you can follow and you can contact our Complaints Team by: