Bin day reminders
Get a reminder!
You can now signup to receive a reminder that your bin is due to be collected the following day. This service works all year round for refuse and recycling collections. You can also get a reminder when garden waste collections are in season.
If there is a scheduled change to your collection day like at Christmas we will send the reminder the day before your new collection day.
Reminder emails are available to everyone. Android and Windows users can get push notifications sent directly to their devices. Unfortunately at the time of release Apple devices do not allow us to send push notifications to IOS web browsers. This is something we will keep an eye on and look support as soon as Apple allows it.
Setting up reminders
To set up reminders log into your My Darlington+ account and from the menu select 'My Alerts' then 'Bin Notifications'.
Emails
Anyone can sign up to email reminders, these usually get sent out around 7pm the night before your collection. Simply scroll down the page and check the boxes next to the collections you'd like to receive reminder emails for. If you have 2 collections the following day such as refuse and garden waste we'll send you one email stating both bins need to be put out. Once you're happy with your choice click the save button.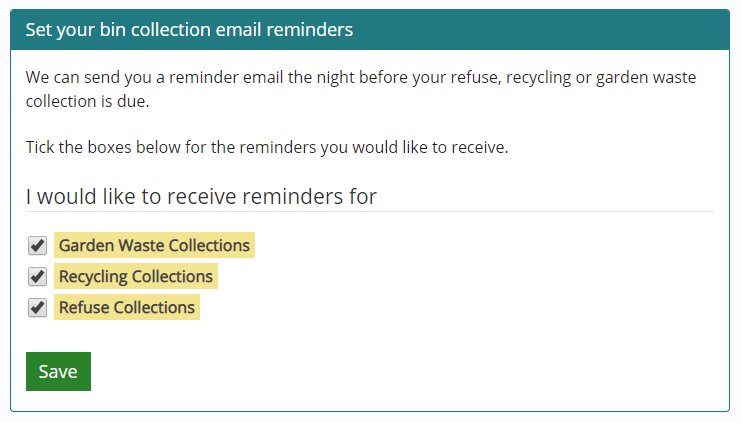 Push notifications
We can send push notifications to Android and Windows devices (as long as they are on) the night before your next collection. For this to work you have to set this up on the device you want to receive the notification on. In most cases this is likely to be your phone so you must log into My Darlington+ on the phone that you want the notifications sent to.
We need your permission to send notifications to your phone. You must click on the 'Enable messaging on this device' button to receive notifications.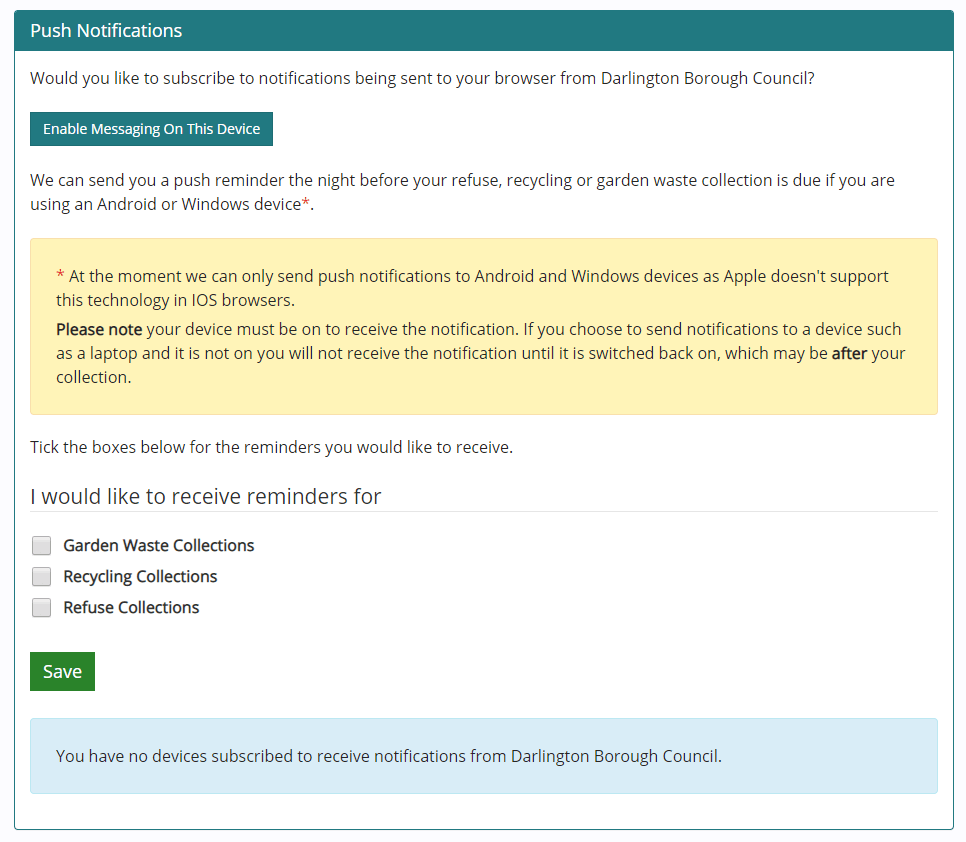 You should see a popup like the one below. Select 'Allow'.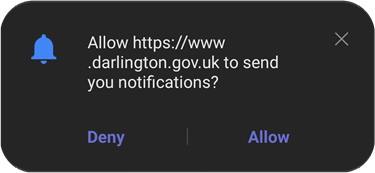 The 'Enable messaging on this device' button will change to 'Disable messaging on this device'. You can press the disable button to stop this device receiving messages in the future.
You're now ready to select what type of notifications you want to receive. Unlike emails we are limited by space with push notifications. If you have 2 collections the following day you will receive 2 notifications, one for each type of bin that is collected.
Once you have selected the notifications you want to receive press the Save button to save your settings. 
Managing your devices
You can manage the devices that you have setup to receive push notifications. You can;
rename a device so that it's easier to identify
remove a device you no longer want to receive notifications.

By default when you set up a device it will be named after the operating system and browser that you enabled notifications on. To rename a device type over the current name and press the save button. You can remove old devices that you no longer want to receive notifications by pressing the Remove button next to that device.