North East Veterans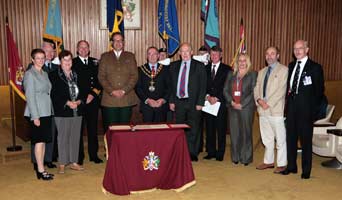 Darlington Borough Council and partners formally sign the Darlington Armed Forces Community Covenant at a reception hosted by His Worshipful the Mayor on 31 August 2012.
Darlington Armed Forces Community Covenant
Darlington Borough Council is one of 12 local authorities across the North East region that has signed an Armed Forces Community Covenant to set out its responsibilities and the service provision it offers to veterans.
The Armed Forces Community Covenant is underpinned by a Veterans Action Plan which sets out the way Darlington Council and its partners will support and work with veterans across the borough.
Armed Forces Community Covenant [pdf document]
Veterans are defined as people who have spent a proportion of their life serving their country in the Armed Forces, as a regular or reserve, and this covers all ages.
Armed Forces Covenant Grant Programme
Please note there are different eligibility rules for each priority. For more information please visit the Gov.uk Covenant Fund pages [external site]. 
Veterans' Gateway
The Veterans' Gateway was launched 3 June 2017.
The Veterans' Gateway makes finding the right support easier and quicker – no matter where you are or what you need.
Veterans' Gateway is made up of a consortium of Armed Forces charities including The Royal British Legion, SSAFA the Armed Forces charity, Poppy Scotland, Combat Stress and Connect Assist.
A group of referral partners also back the service, allowing Veterans' Gateway to refer people to specialist organisations both within and outside of the Armed Forces sector.
This is first time a group of charities have come together formally to provide such a service to benefit the Armed Forces community.
How does Veterans' Gateway Work?
Veterans' Gateway gives access to a network of organisations, making it easy for veterans and their families to connect with the help, advice and support they need from their first point of contact.
Their team of advisors are available 24 hours a day, 7 days a week and many are veterans themselves.
They assess people at the first point of contact, ensuring they are quickly referred to the organisation that is best placed to support them, such as SSAFA, the Armed Forces charity.
Veterans' Gateway also has an extensive Self Help service, allowing veterans to search for help and advice independently.
You can access more information using the following link, Veterans Gateway website [external link].
Joint Service Housing Advice Office Leaflets
The Government have produced a series of leaflets to provide information and advice for service personnel around their housing options.
Leaflets include Forces Help to Buy, Occupation of service family accommodation, private rentals and understanding your council tax. Leaflets can be found on the Gov.uk Joint Service Housing Advice Office leaflets page [external link].
Veterans Welfare Service
For useful resources for the service community visit the Veterans Welfare Service .gov webpages [external link]
Veterans Breakfast Clubs
Veteran's Breakfast Clubs have been set up across the Country for Veterans and serving members of her Majesties Armed Forces to meet and have a breakfast together.
The groups are free to join, all you need to pay for is your breakfast. To find out more about Breakfast Clubs or to find your nearest group click Armed Forces and Veterans Breakfast Club website [external link].
War Pension Scheme
Information about compensation schemes for UK serving and former serving personnel injured as a result of their service in the armed forces.
For more information please click Gov.uk War Pension Scheme web page [external link].
Moving schools pack: Guidance for service families
The moving schools pack is to help service parents help and support their children through moving schools.
The pack includes a guide for parents and a Children's activity pack.
More information can be found on the  Gov.uk Moving schools pack web page [external link].
Changes to mortgage deals for Armed Forces personnel
Armed forces personnel can now rent out their homes when deployed without making changes to their residential mortgage.
For more information visit the Gov.uk Better Mortgage Deal news story [external link].
The Future Accommodation Model
Although at an early stage, the Ministry of Defence is thinking about how it provides service personnel with accommodation in the future and has released a series of potential options that could be available in a few years' time.
Options include renting near work, owning near work and owning away from work.
If you would like to see these proposed options in more detail you can find information on the MOD Future Accommodation Model [external link].
Extra support for Armed Forces spouses and civil partners to help protect their state pension
DWP has announced extra support for armed forces spouses and civil partners who have joined their partners on overseas postings.
The support comes in the form of a National Insurance Credit which will ensure that those who have been unable to work due to joining their spouse or civil partner while posted overseas, will not miss out on their State Pension because of missed contributions.
There is more information and for details on how to apply in the Department for Work and Pensions press release on protecting state pensions [external link].
The Royal British Legion's Campaign for the 2021 census- 'Count them In'
The Royal British Legion is launching a campaign to call for additional questions to be included on the 2021 census.
The questions will be aimed at capturing the much needed data on the Armed Forces Community - particularly Reservists and Veterans.
On 16th May 2016 the Royal British Legion launched a dedicated campaign site called Count Them In [external link].
Better Care package announced for severely injured veterans
A new system to give seriously injured veterans better lifelong assistance [external link] has been announced by the Ministry of Defence. 
Veterans have a range of support needs and the websites below may be of help.
The first point of support in Darlington Borough Council is through our Contact Us page.
Links to other useful pages:
Links to External Websites and Organisations
Ex-service organisations
Employment and Training
Families and Leisure
Housing
Information and Finance
Health and Wellbeing