Information, Advice and Guidance
At Learning & Skills we pride ourselves on providing great information, advice and guidance to all our learners.
Learning & Skills is accredited to the Matrix standard. This standard is a unique quality standard for the assessment and measurement of the advice and support services we provide, which ultimately supports learners in their choice of career, learning, work and life goals.
Our current accreditation lasts until 15 June 2020.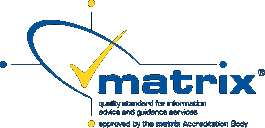 We offer impartial advice and guidance to all. We help with: 
Advice on courses delivered by us and other providers 
Transition support from schools 
Job search and interview skills
CV preparation
Advice on improving yours skills, qualifications and employability
Courses to improve your career prospects 
Careers advice
Progression from your current course
A list of websites you may find useful [pdf document]