Who are we?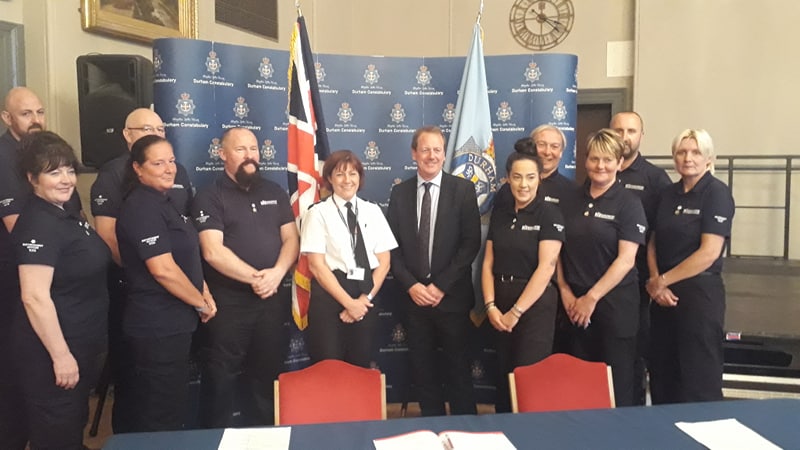 Who are we?
We know that most people care about Darlington and their neighbourhood. Our uniformed officers patrol the streets, taking action against those who do not respect the town and its residents.
The team uses powers devolved from the police. We are concentrating our efforts to tackle;
anti-social behaviour,
fly tipping,
littering,
dog fouling,
and parking issues.
You will see their distinctive yellow and black vehicles around town as they are on duty 8am - 10pm. The vehicles are marked similarly to traffic officers on motorways. The colour scheme identifies powers to stop and direct vehicles. Our officers use CCTV footage captured from their vehicles.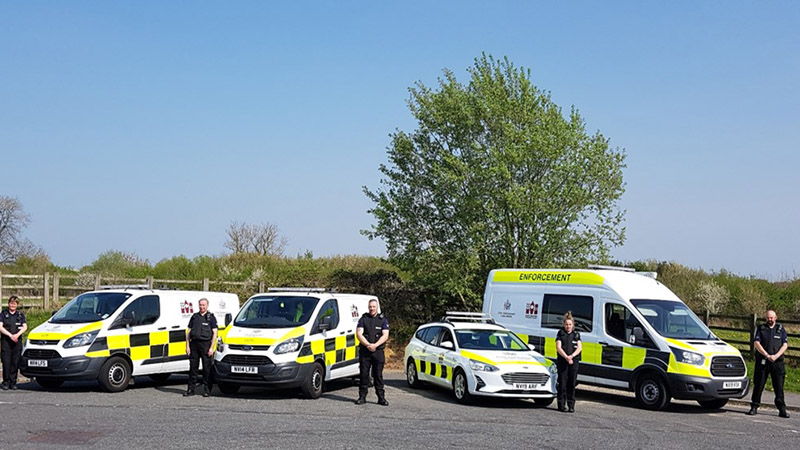 What do we do?
We're here to make Darlington a safer, cleaner and more appealing place to live, work and visit. If Darlington's facilities and environment are safeguarded and we have low crime it will attract more people and businesses here. This ensures our town has a thriving economy and helps us sustain a vibrant town centre.
Patrol
We patrol Darlington Borough and the town centre, monitor public parks and green spaces and keep an eye on schools particularly in relation to parking and traffic management. We ensure rubbish and littering is cleared and offenders are investigated.
Respond
We respond to and prevent anti-social behaviour by engaging with offenders and their parents, putting agreements in place to stop repeat incidents and will take further action with stronger punishments where necessary.
Help
We provide a dog control service, helping locate lost animals, reuniting them with their owners where possible. We support the police to enforce the law for dangerous and out of control dogs.
Enforce
We monitor parking by patrolling car parks and streets, moving motorists on, issuing parking charge notices where necessary to minimise nuisance parking, improve safety and ensure spaces for residents are used correctly.
Our enforcement officers have a range of police accredited powers. They have the power to;
request a name and address,
issue fixed penalty notices,
remove abandoned or obstructing vehicles,
direct traffic,
address begging,
seize alcohol in restricted public places or from under 18s,
and can stop and search trade vehicles.
Please see enforcement powers for more detail.
This information is also available in this downloadable document [pdf document]
Powers and legislation
Power
Relevant legislation
Power to require name and address for anti-social behaviour: Power of a constable in uniform under section 50 of the Police Reform Act 2002 to require a person whom he has reason to believe to have been acting, or to be acting, in an anti-social manner (within the meaning of section 1 of the Crime and Disorder Act 1998) to give his name and address.
Paragraph 3 of Schedule 5 to the Police Reform Act 2002
Power to require giving of name and address: Power to require the name and address of a person whom an accredited person has reason to believe has committed a relevant offence (Relevant offences are defined under paragraph 2(3) of Schedule 5 of the Police Reform Act 2002 as relevant fixed penalty offences in relation to which the accredited person is able to give a fixed penalty notice under paragraph 1 of Schedule 5 or an offence that appears to the accredited person to have caused injury, alarm or distress to another person or loss of or damage to another person's property. It also includes an offence under a relevant byelaw within the meaning of paragraph 1A ). It is an offence to fail to comply with an accredited person's requirement.
Paragraph 2 of Schedule 5 to the Police Reform Act 2002
Power to require name and address for road traffic offences: Power of a constable under sections 165(1)(c) and 169 of the Road Traffic Act 1988 to require the name and address where the accredited person has reasonable cause to believe certain offences under that Act have been committed.
Paragraph 3A of Schedule 5 to the Police Reform Act 2002 (inserted by paragraph 19 of Schedule 8 to the Serious Organised Crime and Police Act 2005)
Power to remove abandoned dangerous and obstructing vehicles: Powers in the relevant police area as are conferred on an accredited person by regulations made under section 99 of the Road Traffic Regulation Act 1984 (removal of abandoned vehicles).
Paragraph 7 of Schedule 5 to the Police Reform Act 2002

Power to stop vehicles for testing: Powers of a constable in uniform to stop vehicles for the purposes of testing under section 67 of the Road Traffic Act 1988

Paragraph 8 of Schedule 5 to the Police Reform Act 2002
Power to control traffic for purposes other than escorting a load of exceptional dimensions: The Serious Organised Crime and Police Act 2005 enables accredited persons to be given powers to direct traffic (for purposes other than escorting loads of exceptional dimensions) based on the powers constables have under sections 35 and 37 of the Road Traffic Act 1988. It also gives accredited persons the power of a constable to direct traffic for the purposes of conducting a traffic survey. Accredited persons conferred with powers under this paragraph must also be given powers under paragraph 3A of Schedule 5 to the Police Reform Act.
Paragraph 8B of Schedule 5 to the Police Reform Act 2002 (inserted by paragraph 20 of Schedule 8 to the Serious Organised Crime and Police Act 2005)
Power to direct traffic for the purposes of escorting abnormal loads: Power of a constable engaged in the regulation of traffic in a road, for the purpose of escorting a vehicle or trailer carrying a load of exceptional circumstances (vehicle or trailer the use of which is authorised by an order made under section 44(1)(d) of the Road Traffic Act 1988) either to or from the relevant police area, to direct a vehicle to stop, to proceed in, or keep to, a particular line of traffic, and to direct pedestrians to stop.
Paragraph 9 of Schedule 5 to the Police Reform Act 2002
Power to stop cycles: Powers of a constable in uniform to stop a cycle under section 163(2) of the Road Traffic Act 1988 when an accredited person has reason to believe that a person has committed the offence of riding on a footway by cycling.
Paragraph 8A of Schedule 5 to the Police Reform Act 2002 (inserted by section 89(6) of the Anti-Social Behaviour Act 2003)
Power to deal with begging: The Serious Organised Crime and Police Act 2005 makes offences under sections 3 and 4 of the Vagrancy Act 1824 into relevant offences, giving accredited persons the power to request the name and address of someone who has committed such an offence.
Paragraph 2(3)(aa) of Schedule 5 to the Police Reform Act 2002 (see paragraph 18 of Schedule 8 to the Serious Organised Crime and Police Act 2005)
Power to issue fixed penalty notices for truancy: Power of a constable to give a penalty notice under section 444A of the Education Act 1996 (penalty notice in respect of failure to secure regular attendance at school of registered pupil).
Paragraph 1(2)(ab) of Schedule 5 to the Police Reform Act 2002 (inserted by section 23(6) of the Anti-Social Behaviour Act 2003)
Power to issue fixed penalty notice in respect of an excluded pupil in a public place: Power of a constable to give a penalty notice under section 105 of the Education and Inspections Act 2006 (penalty notice in respect of presence of excluded pupil in public place).
Paragraph 1(2)(ac) of Schedule 5 to the Police Reform Act 2002 (inserted by section 107(4) of the Education and Inspections Act 2006)
Power to issue fixed penalty notices for graffiti and fly-posting: Power of an authorised officer of a local authority to give a notice under section 43(1) of the Anti-social Behaviour Act 2003 (penalty notices in respect of graffiti or fly-posting).
Paragraph 1(2)(ba) of Schedule 5 to the Police Reform Act 2002 (inserted by section 46(2)(b) of the Anti-Social Behaviour Act 2003)
Power to require persons drinking in designated places to surrender alcohol: Power of a constable under section 12 of the Criminal Justice and Police Act 2001 (alcohol consumption in public places) to require a person whom an accredited person reasonably believes is, or has been, consuming alcohol in a designated public place or intends to do so, to not consume that alcohol (anything which is, or which the accredited person reasonably believes to be alcohol, or a container for alcohol) and to surrender any alcohol or container for alcohol. Power to dispose of alcohol surrendered to him.
Paragraph 4 of Schedule 5 to the Police Reform Act 2002
Power to require persons aged under 18 to surrender alcohol: Power of a constable under section 1 of the Confiscation of Alcohol (Young Persons) Act 1997 (confiscation of intoxicating liquor) to require a person in a relevant place who he reasonably suspects is in possession of alcohol and is either aged under 18 or is or has been supplying alcohol to a person aged under 18 to surrender any alcohol in his possession and to give their name and address. Power to require such a person to surrender sealed containers of alcohol if the accredited person has reason to believe that the person is, has been or intends to consume alcohol. Power to dispose of alcohol surrendered to him.
Paragraph 5 of Schedule 5 to the Police Reform Act 2002
Power to seize tobacco from a person aged under 16: Power of a constable in uniform to seize any tobacco or cigarette papers in the possession of any person apparently under the age of 16 years found smoking in any street or public place and to dispose of any tobacco and cigarette papers as the employer of the accredited person may direct
Paragraph 6 of Schedule 5 to the Police Reform Act 2002
Power to issue fixed penalty notices in respect of offences underdog control orders (REPEALED): Power of an authorised officer of a primary or secondary authority, within the meaning of section 59 of the Clean Neighbourhoods and Environment Act 2005, to give a notice under that section (fixed penalty notices in respect of offences underdog control orders).

Paragraph 1(2)(d) of Schedule 5 to the Police Reform Act 2002 (inserted by section 62(3) of the Clean Neighbourhoods and Environment Act 2005)

REPEALED by Anti-social Behaviour, Crime and Policing Act 2014, s181(1), Schedule 11, Part 1, Paragraph 33 as of 20 October 2014

Power to issue fixed penalty notices in relation to offences against certain byelaws: Power of an authorised officer of an authority to give a notice under section 237A of the Local Government Act 1972 where the accredited person has reason to believe an individual has committed an offence against a relevant byelaw.
Paragraph 1A of Schedule 5 to the Police Reform Act 2002 (inserted by section 133 of the Local Government and Public Involvement in Health Act 2007). In force from 27 January 2010, except for para 1A(3) and (5)(a) - see Local Government and Public Involvement in Health Act 2007 (Commencement No 9) Order 2010 (SI 2010/112), article 2(e)