November 2021 Time is Now exhibition
Four of our CAP artists had works selected for the 'Time is Now' exhibition at Project Ability Gallery in Glasgow which runs until 23rd December.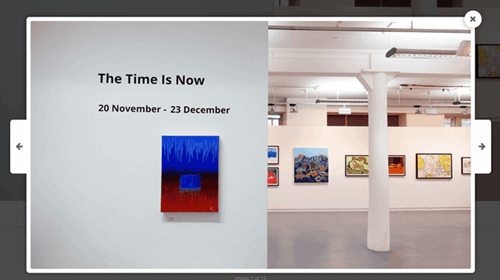 Anne Smith, Steven Hardy, Jennifer Smith and Denise Adams all produced works on the theme of Climate Change inspired by the COP26 Conference.
The exhibition can be viewed online on the Project Ability website [external link].
Most of our artists also contributed works to the Outside In postcard fundraiser.
Matthew Beadon was one of the twelve artists whose work was selected from several hundreds of entries for inclusion in the Outside In calendar [external link].
Our own 2022 calendars will be arriving soon. They are A3 sized, printed in full colour with spiral binding and ready to hang on your wall.
There are two different versions of the calendars including artworks by each of our current artists and they cost just £5.
Contact the CAP if you would like to order one.
Earlier this year one of our Community Art Project attenders, Matthew Beadon had five of his pictures displayed in the prestigious Euward 8 exhibition in the Haus der Kunst gallery in Munich after being selected from over 330 applicants based all over Europe.
This has already led to potentially useful contact with the Thikwa Werkstatt Studio Project and Galerie Art Cru both based in Berlin.
In the next few weeks we will start work on a short film about the Community Art Project with a film-maker and editor commissioned by Creative Darlington and linked with Autism Awareness Week next year.
From January 28th 2022 we will be displaying artworks in the Darlington Building Society branch on Tubwell Row in Darlington town centre.
Then our attention will turn to the exhibition 'Under a Blue Sky' at Phoenix Gallery in Brighton, featuring works by Alan Payler and a selection of other artists from the CAP.
This is the result of Alan winning first prize at the 'Environments' exhibition in London judged by Grayson Perry amongst others.
The exhibition had to be re-scheduled due to the Covid pandemic and will now take place in April 2022.
We are already working in partnership with Outside In to incorporate other elements to accompany the exhibition and maximise it's impact and benefit to us including a training programme to enhance our service users' confidence and skills in talking about themselves and their work, a new film promoting what we do, a discussion event and publicity about the exhibition including extensive coverage in Outside In's magazine.
We also produced our own mugs!
For more information about the Community Art Project
Email [email protected] or telephone 01325 243864.