Sarah-Jayne Sams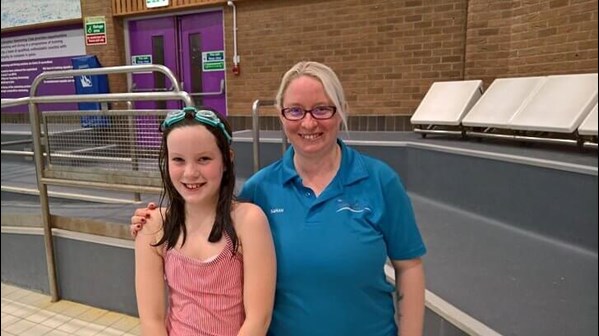 I have been a swimming instructor for 20 years and I find it very rewarding. Seeing children progress from being nervous and scared right the way up to being confident to swim on their own, being a competitive swimmer or even becoming a lifeguard! I actually taught seven of the Dolphin Centre lifeguards how to swim – which makes me feel old!
I think that everyone should have the opportunity to learn to swim. No-one should be scared of the water – we live on an island after all so you are never too far away from water!
It's all about the safety factor. I want to make sure that no-one feels in danger in water. I know from personal experience what it feels like not to be able to get out of the water and relying on someone to come and help you. I was in the sea with a friend when I was 14 and she got caught in a rip tide. I had done my rookie lifeguard training so went to help her and managed to push her to safety but then I got caught in the rip tide myself and had to be rescued by the lifeguard. From then on I vowed that's what I wanted to do – to make sure everyone has a fighting chance to get out of the water whatever happens.
I am big into water safety but try to make it fun for people of all ages. I teach babies from nine weeks old up to my oldest pupil who is 99! I am a firm believer that anyone can learn to swim – all it takes is practice and patience. Everyone should have the opportunity to learn to swim. It's never too late to learn a skill that could save your life!